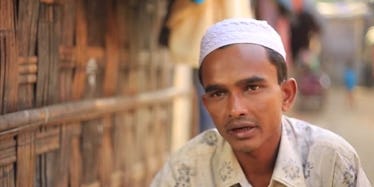 Refugee Dad's Tragic Photo Of Son Lying Dead In Mud Has Whole World In Tears
CNN
When people hear the word "refugee" these days, they often associate it with Syria.
But a devastating image of a child lying face-down, dead in the mud, is a stark reminder the refugee crisis we're currently facing is global.
The 16-month-old boy, reportedly named Mohammed Shohayet, was a Rohingya Muslim refugee from Myanmar (also known as Burma) attempting to flee to Bangladesh with his family.
His father, Zafor Alam, told CNN the boy drowned during the perilous journey along with his mother, uncle and three-year-old brother.
Around 34,000 people have fled from Myanmar to Bangladesh in recent weeks and months.
But, as the tragic photo of Mohammed reveals, not everyone makes it safely across the border.
Speaking about the image of his son, Alam said,
When I see the picture, I feel like I would rather die. There is no point in me living in this world.
Alam said his family had no choice but to flee their home because the Myanmar military attacked it, explaining,
In our village, helicopters fired guns at us, and the Myanmar soldiers also opened fire on us. We couldn't stay in our house. We fled and went into hiding in the jungle. My grandfather and grandmother were burnt to death. Our whole village was burnt by the military. Nothing left.
Alam became separated from his family as they fled to Bangladesh.
Once he made it to the Nam river, which runs between Myanmar and Bangladesh, he began swimming.
He said he was picked up by some fisherman, who took him across the border.
After he got across, he contacted a boatman to try and get his family across too. He explained,
I contacted a boatman and asked him to help my wife and sons so that they could cross the river. They were waiting on the other side. I called (my family) on December 4. They were very desperate to leave Myanmar. They were the last words I had with my family. When I was talking to my wife over phone, I could hear my youngest son calling 'Abba-Abba' (father-father).
Alam's family attempted to escape after they spoke to him on the phone, but the boat they were in ultimately sank. He said,
When the Myanmar police got a sense that people were preparing to cross the river, they opened fire. Hurriedly, the boatman took all people on board to escape the firing. The boat became overloaded. Then it sank.
Alam learned of his family's fate when someone phoned him the next day,
Someone phoned me and said my son's dead body was found. He took a photo of my son by mobile phone and sent it to me. I was speechless. It's very difficult for me to talk about my son. He was very fond of his father. My son was very affectionate. In our village, everyone used to love him.
The image of Alam's son is very reminiscent of the heartbreaking image of Aylan Kurdi, the Syrian boy whose dead body washed up on a Turkish beach.
Both images stand as tragic reminders of the world's failure to help refugees.
The Rohingya people, who are not recognized as citizens by Myanmar's government in spite of the fact they've lived there for generations, are considered to be among the world's most persecuted minorities.
Religious tensions between the Rohingya Muslims and Rakhine Buddhists escalated into intense violence severals ago.
Evidence of the persecution of the Rohingya people continues to emerge.
Human rights groups claim the Myanmar military burned Rohingya villages over the past several months.
A viral video that showed Myanmar border police beating Rohingya villagers recently sparked outrage.
At the moment, there are currently around 21.3 million refugees worldwide, according to the UN refugee agency (UNHCR).
This is the worst refugee crisis since WWII, but many wealthy countries -- who are in the best position to step up and help -- are hardly doing anything to address it.
Citations: 'The Rohingya Alan Kurdi': Will the world take notice now? (CNN)