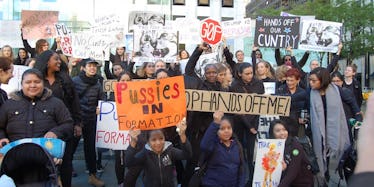 'Cunt Touch This': Women Protested Donald Trump And The Puns Were Next Level
About 60 women, led by survivors of sexual assault, held a demonstration at Trump Tower on Fifth Avenue in New York City on Wednesday morning.
The protest consisted of a multiracial group of women standing up to both Republican presidential nominee Donald Trump and the GOP party, in light of the released video of Trump saying he "grabs [women] by the pussy."
They used the phrase #GOPHandsOffMe.
Nadya Stevens, 33 – who has lived in Brooklyn her whole life and even led chants during the demonstration – explained that the protest is not just about Trump.
That whole ideology, that mindset, is something we need to put a stop to.
She said the protesters wanted to send the message that America "can never have anyone like him again." Stevens worries that in the future, people will follow Trump's actions and words -- attacking people of color, women, people with disabilities and so on -- in their own races for the presidency.
We're going to stand up against that and we're going to reject that and we're going to tell Trump that he has no place in the Oval Office or even in this country. He doesn't belong here.
Stevens has not participated in an official protest against Trump before, although she has disagreed with "everything" he's said. But she was particularly moved by the reaction of the GOP against the latest Trump offense.
Many Republicans have stood up and said that they stand against either Trump or his comments on women. The comments were largely made against white women.
She said,
Donald Trump has said vile things about Muslims, about Mexicans, about Chinese people, about black people, about women period. But it wasn't until he started talking about white women that the GOP decided they had to distance themselves from him. It sends a very clear message that those are the only women they care about -- and only if it's their 'wives' and their 'daughters' and their 'sisters,' like they always say. Not just women because they're human beings, right? They always have to be related to them to have any sort of real identity.
Stevens, who worked on the Bernie Sanders campaign, is now personally supporting Hillary Clinton. Trump is, as she sees it, the only other option.
Dozens of women of a variety of nationalities and sexual orientations joined Stevens on the brisk Wednesday morning. They were all holding creative signs.
Some included the "pussy grabs back" motto that was created by "Feminist Fight Club" author Jessica Bennett.
Some signs were direct.
Others looked to Beyoncé.
It was a proud day for fans of both cunts and puns.
And for pussy enthusiasts as well.
The election is being held on November 8.
Elite Daily and 50 other media organizations partnered with Rock The Vote to register 100,000 women to vote. You can register right here (and men can use it too) :