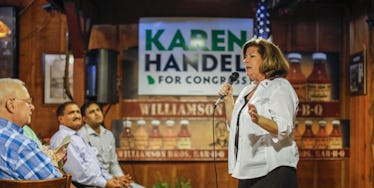 GOP Leader Slammed For Saying Scalise Shooting Will Help Republicans In Georgia Election
ERIK S. LESSER/EPA/REX/Shutterstock
The special election to fill Tom Price's vacated House seat in Georgia's 6th District is already a nail-biter garnering national attention and even presidential tweets.
(While the president is technically correct, Ossoff is temporarily located just outside of the Sixth while his fiancée finishes medical school; additionally, he grew up in the district.)
But now, the race between former Georgia Secretary of State Karen Handel and newcomer Democrat Jon Ossoff -- the election is on Tuesday -- is gaining attention for getting downright ugly. Ossoff very narrowly missed an outright win in April, which led to this week's run-off vote between him and Handel.
After the Alexandria, Virginia shooting, during which Majority Whip Steve Scalise was shot in the hip, Chairman of the GOP in Georgia's 11th Congressional District Brad Carver was quoted by the Washington Post as saying,
I'll tell you what: I think the shooting is going to win this election for us. Because moderates and independents in this district are tired of left-wing extremism. I get that there's extremists on both sides, but we are not seeing them. We're seeing absolute resistance to everything this president does. Moderates and independents out there want to give him a chance. Democrats have never given this president a chance.
Following Carver's statement, unnamed GOP donors, using the name "Principled PAC," released a controversial ad called "Stop the Violent Left." The ad connected Democrats with the shooting, stating that a win for Ossoff (the Democrat) would be a win for extremism.
The attempt to connect the upsetting violence in Alexandria to Ossoff has made some on Twitter mad.
Ossoff responded to the ad: "The man is fighting for his life," he said. "I think it's disgraceful to politicize it, and I think Secretary Handel should call for it to come down."
A spokesperson for Handel called the ad "disturbing and disgusting" and said those responsible should be "ashamed" but did not call for the ad to be removed.
The battle over the Sixth will be, according to some, a gauge of anti-Trump sentiments and how constituents in purple districts feel about the AHCA. (Though Price carried the district by a healthy 23 percentage points last year, Trump won the Sixth by only one percentage point.)
The metaphorical weight this election carries for many might explain why so much money and attention has been poured into election, including a deluge of anti-Ossoff tweets all originating from one source, and out-of-context soundbites of President Barack Obama.
The vote takes place on Tuesday, June 20.