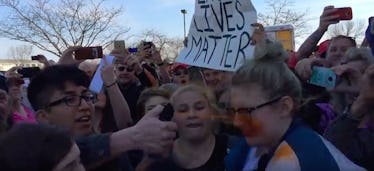 Police Say 15-Year-Old Girl Was 'Groped' And Pepper Sprayed At Trump Rally
YouTube
On Tuesday, a 15-year-old girl was "groped" and pepper sprayed in the face at a Donald Trump rally in Janesville, Wisconsin, according to police.
The rally took place at 4 pm at the Holiday Inn Express and Janesville Conference Center.
According to the police report, the 15-year-old was sexually assaulted by a male in the crowd, and when she seemingly pushed him away, another person pepper sprayed her in the face.
A 19-year-old woman standing nearby was also sprayed in the process. Both of the young women were reportedly taken to local hospitals for treatment.
There is video footage of the incident, and it's very disturbing.
This was yet another instance of violence at one of Trump's rallies, and it occurred the same day his campaign manager, Corey Lewandowski, was charged with misdemeanor battery for an incident involving a female reporter. In early March, Trump was forced to cancel one of his events in Chicago due to safety concerns.
Trump condoned violence at more than one of his events along the campaign trail thus far, so it's no wonder things are spiraling out of control.
At one rally in Iowa on February 1, for example, Trump stated,
If you see somebody getting ready to throw a tomato, knock the crap out of them, would you? Seriously. OK? Just knock the hell -- I promise you, I will pay for the legal fees. I promise, I promise.
Understandably, the Republican front-runner faces ongoing criticism for his rhetoric, which continues to incite controversy and breed divisiveness across the US and beyond.
In spite of all this, the real estate mogul's support remains unabated among certain segments of Americans.
It unfortunately seems very likely we'll witness more chaos at Trump events in the coming months as the election rolls on.
Citations: Donald Trump Rally/Free Speech Event Press Release (Janesville Police Department), This 15-Year-Old Was Groped and Pepper Sprayed Outside of a Trump Rally, Police Say (ELLE), Donald Trump's Rally in Chicago Canceled After Violent Scuffles (The New York Times), What the hell is going on with violence at Trump rallies, explained (Vox), Trump Tells Crowd to 'Knock the Crap Out' of Protesters, Offers to Pay Legal Fees (Mediaite)