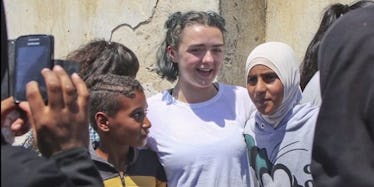 'Game Of Thrones' Stars Slammed World Leaders After Powerful Visit With Refugees
AJ+
The fantasy world of "Game of Thrones" is full of war, death, destruction and despair. Sadly, in the real world, these horrific trends are far too present as well, and they've contributed to the worst refugee crisis of our era.
Now that season six of the HBO monster hit has wrapped up, the stars of "Game of Thrones" took the time to visit refugee camps in Greece in conjunction with the International Rescue Committee.
The cast members might do terrible things as characters on the show, but in real life, they're good people with big hearts who want world leaders to do something about the refugee crisis.
There are presently around 65 million forcibly displaced people worldwide, including over 20 million refugees. But, these individuals are more than just numbers: They're real people like you and me who've been placed in an unfathomable situation.
This is precisely why the stars of a show enjoyed by millions of people are trying to bring attention to this issue. Quite fittingly, the hashtag for the visit was #RealmToTheRescue.
Maisie Williams, who you might know as Arya from the show, was among the "Game of Thrones" stars who met with refugees.
After meeting with a young aspiring Syrian actor, which clearly had a big impact on her, she said,
For me it is about the children... children with so much potential, so many hopes and dreams. Where is the humanity that makes it acceptable for them to languish in refugee camps – in Europe?
Lena Headey, aka Cersei Lannister, who was also there, took to Twitter to talk about the experience.
Last but not least, Liam Cunningham, aka Ser Davos Seaworth, was also in attendance.
He stated,
There are (refugees) in these camps who are oncologists, judges, successful people who've had everything taken away from them... I was angry before but when you meet these beautiful people who are our children, our brothers, our sisters and you see what's been done to them. It's shameful.
Cunningham also made the important point that this crisis is not a product of a natural disaster, saying it's "man-made" and suggesting the globe's overall response to the crisis has been overwhelmingly insufficient.
Back in March, stars of "Game of Thrones" filmed a video urging people to pay attention to the crisis.
This is a global refugee crisis, meaning it's on all of us to do something. Ignoring it or pretending like it isn't everyone's problem won't make it go away.
Citations: Game of Thrones stars call on EU leaders to help Syrian refugees (The Guardian), Figures at a Glance (UN Refugee Agency), Games of Thrones villain blasts politicians over refugees (AP)