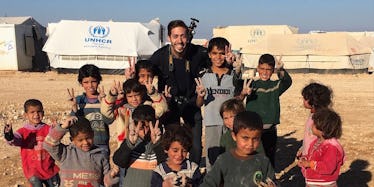 Meet The Guy Who Went From Producing 'The Bachelor' To Documenting Refugees
Andrew Kimmel
A lot of people end up in careers that make them miserable but stick around because they're comfortable and pay the bills. Andrew Kimmel, a 30-year-old from West Hollywood, is definitely familiar with this scenario.
It wasn't long ago he was a producer for the popular reality TV shows "The Bachelor" and "The Bachelorette." Kimmel realized he was lucky to have the job but also knew, deep down, it wasn't what he really wanted to do.
Today, Kimmel is no longer a reality TV producer and, instead, spends his time documenting the ongoing Syrian refugee crisis. He's the creator of a project called "Stories of Syria," a living archive of true first-person interviews with Syrian refugees displaced from the ongoing war.
Syrian people are individuals, they are not just statistics, they are not numbers, these are real human beings.
But his path toward this point wasn't always easy and required some bold and somewhat impulsive decisions.
In an interview with Elite Daily, Kimmel describes what led him to drop his career with one of the most popular reality TV series and start documenting the stories of Syrian refugees.
He states,
To be honest, I never really saw myself having a career in reality TV. I went to school to study film. Afterwards, I tried to get a job in documentary production. But... I fell into what I'd like to call the black hole of reality TV, where as soon as you finish one job you're booked on another job and then another job, and you're moving up really quick. So it's very difficult to get out. It was work and a constant paycheck. But I wasn't really satisfied with the content that we were producing -- (a) it wasn't was I was intending to do and (b) in my mind, I felt like I was contributing to a problem that I had with reality TV and dumbing down America.
Meanwhile, there was an ongoing war in Syria, which was contributing to the worst refugee crisis since World War II.
There are currently around 60 million forcibly displaced people worldwide, including around 20 million refugees. Nearly 5 million of these refugees are Syrian. They've been forced from their homeland by a war that's claimed hundreds of thousands of lives.
It bothered Kimmel that a lot of international news sources were covering the situation, but it was hardly given any attention by the American media.
During a month-long hiatus from his job, he decided he wanted to go see what was happening firsthand. In December 2014, he traveled to Jordan, where one of the largest populations of Syrian refugees resides (approximately 655,217).
He would end up visiting Zaatari refugee camp in northern Jordan, which is run by the UN refugee agency, the United Nations High Commissioner for Refugees (UNHCR). At present, approximately 80,000 refugees live in Zaatari.
Kimmel says,
I'm the type of person where, I don't know what's wrong with me (laughs), but I always want to know what the truth is on certain things. When I can't seem to find it here, I go out to find it myself. It was… a mixture of wanting to know what was actually happening, seeing it for myself, and it was also a test for myself to see if I could even handle producing something with such gravitas. Once I got to the camp, and I got access, I realized this is exactly what I wanted to do and what I should be doing.
What Kimmel found in Jordan surprised him. He expected it to be difficult to get Syrians to talk about their experiences, but that was hardly the case.
Kimmel says,
After speaking with a number of refugees in the camp, they also expressed to me gratitude and a desire to share their stories because they felt that no one was listening, they felt as though they were speaking upon deaf ears and that there was no platform for them to share their experiences. For me, that really shifted things, and I was speaking to a lawyer who was in the camp, and he had money when he was in Syria, but now he has nothing. He's stuck. It just blew my mind. And those are the stories I keep coming across. These are people, just like you and me, just like anyone else in the world, who are stuck in a horrible situation, and no one gives a shit about them.
The stories he heard are a large part of what inspired him to leave his job as a producer on "The Bachelor" and "The Bachelorette" and pursue documenting the Syrian refugee crisis.
But it was the Paris attacks, and the anti-refugee sentiments that followed them, that really pushed him to make the project his main priority. He explains,
I decided to take the project on full time after the Paris attacks… Seeing the reaction [to the attacks], my own friends were writing horrible things on Facebook about Syrian refugees, and that's when I said to myself, 'This needs to be done now.' I started filming in March 2016.
Kimmel wanted to tell the stories of Syrian refugees who resettled in the US to help change people's perspectives on this issue.
While finding refugees to speak to in Jordan wasn't too hard for Kimmel, it was an entirely different matter in the US.
Kimmel says many Syrian refugees in the US are afraid of being targeted because of the stigma surrounding refugees and are wary of appearing on camera. Correspondingly, he mentioned one woman he interviewed who recalled being thrown to the ground in a Walmart in Texas simply because of what she was wearing.
It's sad people who've escaped oppression and violence are facing such challenges in the supposed "greatest nation" on the planet.
This is precisely why projects like Kimmel's are so important.
In his words,
The purpose of the project is to create a personal connection between the viewer and whichever refugee they're watching, to humanize the crisis, to introduce people who might be scared or uneducated on who the Syrian people are, and to educate them. And to show that Syrian people are individuals; they are not just statistics, they are not numbers. These are real human beings that all have a life and personality and love and fears, just like all of us.
Kimmel wants people to see Syrian refugees are fleeing the same people the US is trying to fight: ISIS. He wishes more Americans realized the primary victims of jihadism are Muslims, and the huge number of Syrian refugees is emblematic of that fact.
These people aren't terrorists, they're running away from terror.
As Kimmel puts it,
Every human being wants the same thing in life: safety for their family, shelter and food. When we break it down, to the bare necessities... We are all more similar than we are different.
Check out "Stories of Syria" on Facebook, and view one of the videos from the project below.
This is the worst refugee crisis of our era. It won't get better if we choose to ignore it.