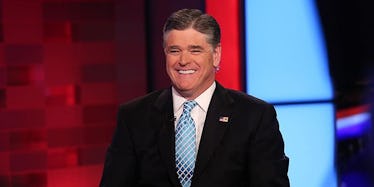 Fox News Called Out By Own Contributor: "Stop Torturing" Murder Victim's Family
Getty Images
The Fox News Channel has been called out for its role in pushing the Seth Rich conspiracy by none other than multiple Fox News contributors.
The conspiracy theory, mostly circulated on Republican-leaning sites and message boards, is that Rich, a former DNC staffer, was murdered because he was a source for WikiLeaks. No real evidence supports this claim, and his family has denied it.
Update 2:30 p.m. ET
Fox News has formally retracted its initial report linking the death of Seth Rich to Wikileaks. Previously, it had only updated the story to reflect the family's rebuttal.
The online post has now been deleted on Fox News' website.
Among the Fox News contributors who addressed the conspiracy was Julie Roginsky.
On Monday, Roginsky posted a video with a simple message: "Stop torturing the Rich family."
In the video, which was posted on Fox News' website, the Democratic analyst "clapped back" at Twitter users, former Speaker of the House Newt Gingrich and other conspiracy theorists.
Stop doing this to the Riches, stop doing this to this poor man's family. Let them get to the bottom of this murder in peace. And save your conspiracy theories that you only want to underscore your political affiliation and not something that you really believe will get to the bottom of this.
The bite of Roginsky's criticism is that Fox News has played a lead role in increasing the speculation surrounding Rich's murder.
Last week, it was Fox News that reported a link between Rich and WikiLeaks. For its report, Fox cited a private investigator for the family.
However, the family's spokesman told Elite Daily that the investigator was trying to push a "timely political agenda."
Similarly, Fox News contributor Jonah Goldberg essentially accused network star Sean Hannity of doing the same thing, saying via Twitter that Hannity is aiming to "sow confusion and chatter to help Trump."
Other Fox News employees criticized the network's role in peddling the conspiracy theory, but they did so anonymously while speaking to CNN senior media reporter Oliver Darcy.
One employee told Darcy,
It is disappointing because it drags the rest of us down.
Another added,
It hurts those of us who are legitimately focused on journalism. We have a chance to turn the corner at Fox, and perpetuating this conspiracy theory damages our integrity.
The family's spokesman, Brad Bauman, told CNN that Hannity had not reached out to the Rich family. Since Fox News' initial report linking Seth Rich to WikiLeaks, the family has requested an apology from the network.
Citations: Fox News staffers 'disgusted' at network's promotion of Seth Rich conspiracy theory (CNN)