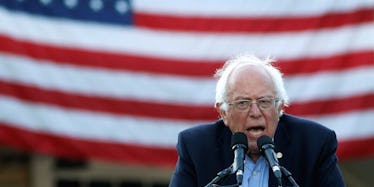 Former Prisoner Explains Why He's Voting For Bernie Sanders In Powerful Video
REUTERS
Senator Bernie Sanders just released a powerful and inspirational video on a former prisoner named Chris Wilson who was given a second chance and turned his life around.
Wilson's story is emblematic of the desperate need for criminal justice reform in this country.
The United States has the highest incarceration rate in the world, with 2.3 million people currently behind bars. America spends $80 billion per year sustaining a broken criminal justice system that disproportionately impacts the poor and minorities.
Much of this has to do with the permanent stigma ex-offenders are branded with, and the fact they are frequently denied opportunities as they attempt to reintegrate into society. Many of these individuals had no opportunities in the first place, which is why they find themselves locked in a vicious cycle of imprisonment.
Chris Wilson understands this better than most. He grew up in an extremely violent neighborhood and got caught up in the chaos. Like many of us, he made rash decisions when he was a teenager. But not all of us grow up in such harsh conditions, where impulsive choices can have much larger consequences.
For all of these reasons and more, as a society we need to work toward a far more humane approach to criminal justice.
Correspondingly, if we really want to prevent future crime, we need to provide people with opportunities to succeed.
This is precisely why Wilson said he's supporting Bernie Sanders for president, as he appreciates the Vermont senator's call for education over incarceration.
In Wilson's words,
I spent almost half of my life in prison. I was a dreamer. But I was raised in a very violent neighborhood. Every couple of months we had to go bury somebody. My mom went through a terrible relationship with a police officer. I started carrying a weapon. Not too long after, I ended up taking a person's life. I was 17. My mustache had just grown in... Education was the key path for me to get out of prison. Bernie gets it more than anyone. If you look at our community now, it's not that people are out here doing these crimes and stuff because they're stupid, people lack the knowledge to do things, to start a company. What do you do? How do you do that? Bernie understands the impact of tuition free public college. He's willing to contribute and do something bold to change the system.
When it comes down to it, there are no simple solutions in terms of fixing America's criminal justice system. It will require a variety of approaches. But changing the way we view and treat both current and former prisoners would be a great start, and that includes helping them enrich their lives via an education.
Watch the video on Chris Wilson's story and why he's supporting Bernie Sanders above.