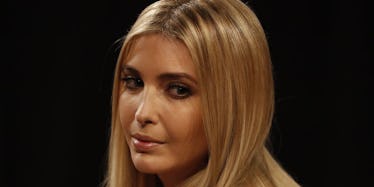 5 Notorious Female Republicans Who Support Hillary Clinton
Reuters
Though most reporters claim the leaked "Access Hollywood" footage was the tipping point for Donald's election, it is difficult to trace when, exactly, women started abandoning him by droves.
Thanks to Donald Trump's decades of "experience" as a celebrity, he has a recorded past of extensive sexism.
Even amongst his own party, Trump has been unpopular with female voters, to the extent that he has driven several high-profile Republican women directly into the waiting arms of Hillary Clinton.
Though many of these famous ladies of the GOP might not have publicly denounced Trump's sexism, it's well-known that none of them are backing the Republican nominee.
Come November 8, all Americans will cast their votes ― and these six women will most certainly vote blue.
1. Meg Whitman
Though you might not recognize Meg Whitman from the news, this executive at Hewlett Packard (HP) has long been a high-profile Republican. Because of her influential social and professional position, Whitman has rallied support for dozens of Republicans, and her past endorsements have done much to court favor (and funding) for nominees like Mitt Romney and Chris Christie.
However, Whitman's red blood runs cold at the thought of a Trump presidency. She has bluntly called Trump a demagogue and privately compared him to Hitler and Mussolini.
In contrast, Whitman has touted Clinton's plans for infrastructure and focus on small businesses, which she believes puts "country before party." Undoubtedly, Whitman's fortune and support will do much to bolster the Clinton campaign.
2. Lezlee Westine
Westine is another powerful woman who isn't necessarily on the GOP's front lines, but wields significant influence behind the scenes. During President George W. Bush's first term, Westine worked as the White House's Director of Public Liaison, drumming up support for Dubya amongst the nation's women.
Today, she is doing the same ― but for the Democratic nominee, instead.
Due to her experience alongside a president, Westine understands that the government's highest office requires "steady and experience leadership" ― which she believes Donald Trump cannot provide.
Because Westine has close ties to most of America's chief executives after her role as president of TechNet (a network for executives in the tech industry), she might have the power to sway other high-powered individuals to the Clinton campaign.
3. Nicolle Wallace
She is a communications chief for President George W. Bush, a senior advisor for McCain's presidential campaign and a Republican voice for the relatively left-leaning MSNBC.
Nicolle Wallace isn't afraid to show her support for the GOP. However, from the very beginning of Trump's campaign, Wallace has expressed her disapproval for her party's candidate.
During the Republican National Convention, Wallace proclaimed, "The Republican Party that I worked for for two decades died in this room tonight."
She has even clashed with her loved ones over her political views, claiming that her "family life is in shatters" because her parents support Trump and she does not. Though Wallace has never expressed devotion to the Clinton campaign, it's obvious where her loyalties lie.
4. Maria Comella
While Chris Christie continues to back Donald Trump, despite several insults the candidate lobbed in the governor's direction, much of Christie's staff have different plans for their vote. In particular, Christie's best aide, Maria Comella, has defected big-time and released a statement of support for Hillary Clinton.
Before finding outstanding success managing Christie's public image, for more than 15 years, Comella devoted her career to the Republican Party, working for big names such as George W. Bush, Rudy Giuliani and Sarah Palin.
While Comella remains a staunch Republican, she admits Trump doesn't truly represent the party. She fears Republicans who don't denounce Trump and support Clinton believe that "winning at any cost is more important than principles," which is a dangerous political precedent to set.
5. Sally Bradshaw
Sally Bradshaw has been an advisor and confidante for two generations of Bushes, helping George H.W. during his 1988 presidential campaign and Jeb during his tenure as Florida governor.
Yet, decades of work within the Republican Party has not solidified her allegiance to just any GOP presidential candidate. Like the other red-blooded women listed above, Bradshaw is disgusted by Trump's words and actions, calling him a "total narcissist ― a misogynist ― a bigot."
In fact, Bradshaw has been so dismayed by her party's reaction to Trump, that she has left the political game entirely, opening a bookstore in Tallahassee.
Though she isn't necessarily drawn to Clinton's policies, she admits she will vote Democrat if the Florida race is at all close.