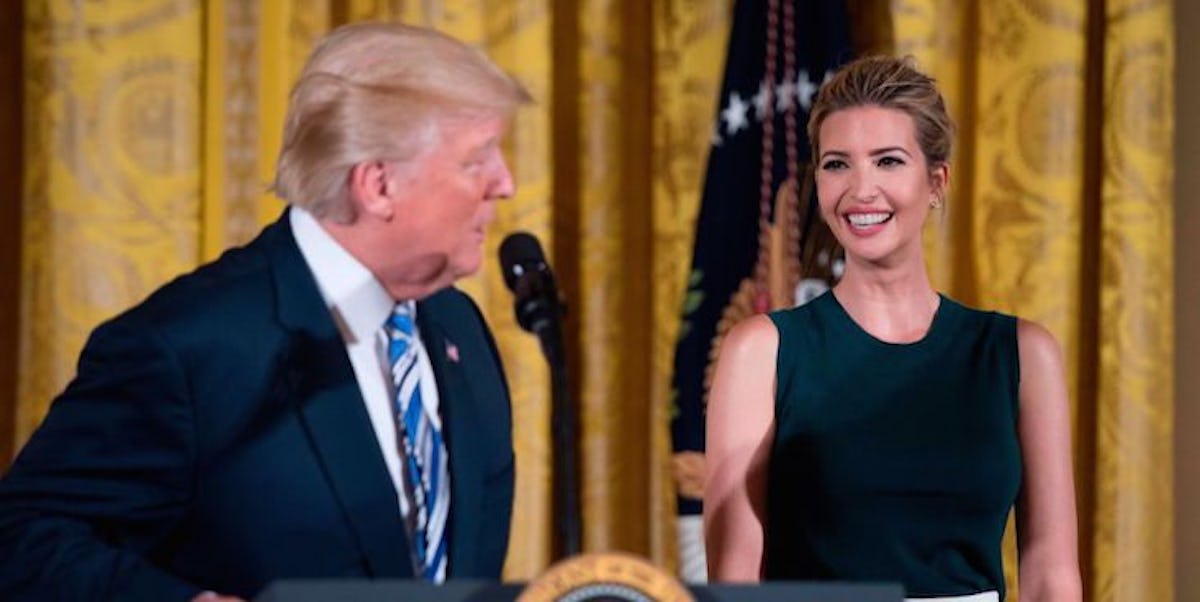 Donald Trump Once Talked About Ivanka's Interest In Kissing A Girl, So There's That
JIM WATSON/AFP/Getty Images
A dump of 15 hours of Donald Trump on The Howard Stern Show hit the internet this week, so unfortunately now we're stuck looking at some gross and bizarre things our president has said. One of those bizarre moments came during a Feburary 2006 appearance on the radio show. Donald was joined by his daughter, Ivanka, who was then 24 years old and starting to make regular appearances on The Apprentice, thus the joint interview with Stern. During the 2006 episode, Donald and Ivanka Trump discussed kissing girls. As you'd probably guess, it got really, really awkward really, really quickly.
This particular clip happened on Feb. 27, 2006. As mentioned, Ivanka herself was also on the radio show along with her father. I found this clip on Factba.se, which was sent all of these Trump-Stern interview files by an anonymous person. Factba.se uploaded the clips and made them a searchable database, so you can click around and find Trump and Stern talking about a whole bunch of weird things. They were released on Monday, Sept. 25.
Before this, these tapes were not available to the public, in spite of them having been publicly aired. Stern refused to release them during the election, saying he felt "it would be a betrayal to any of our guests if I sat there and played them now where people are attacking him," according to Newsweek.
Throughout the early 2000s, Donald Trump had a habit of making borderline inappropriate comments about his young daughter. This included the infamous View claim that "if Ivanka weren't my daughter, perhaps I'd be dating her." And, naturally, a lot of these comments were made during Trump's regular appearances on The Howard Stern Show. Also naturally, Stern joined in on commenting on Ivanka Trump's appearance. What else are women good for!
Ivanka and Donald Trump were on the show ostensibly to promote the new season of The Apprentice. But this being Stern, it eventually swerved into sexual conversations. Out of nowhere, Stern says,
So Ivanka, obviously you are a very attractive one.
She replies with a simple "thank you." Stern presses,
There's no question about it. Your father says you're one of the most attractive women on the planet. I don't disagree.
As millions of women have said when addressed by a creeper, Ivanka again replies with a "thank you."
They get into discussing her dating life, and she'd just broken up with a boyfriend of three-and-a-half years (she tries to say she's focusing on work, but no one on the show is having that). While explaining the breakup, Stern jumps in and says,
You're still a virgin, I assume?
The people on the show laugh. Stern asks Donald if he ever discusses sex with his daughter, and Donald says he does not. Finally, they get back to talking about business.
But then, of course, Stern brings it back to sex at the end of the show. Again out of nowhere, he asks,
One last question, Ivanka, would you ever, ever go out with another woman?
Ivanka replies, simply, "no." Stern asks,
Never would kiss a girl?
Again, Ivanka shuts it down: "No." "Interesting," Stern muses, before being cut off by someone shouting, "hey now!" Then, Donald weighs in,
It's just not her deal. You know what? Not her deal.
Stern replies,
I don't believe it. Go out with me, I'll corrupt you.
You guys, I don't even know where to start with this one. It drives me crazy that someone like Howard Stern is so popular and still has a platform in spite of this type of talk -- which, I know, is his thing that keeps people listening. It just makes me so sad -- and, honestly, makes me feel empathy towards Ivanka for having to deal with this homophobic and sexist and demeaning stupidity. And then I remember she chose to do it and she has all the privilege in the world, etc., etc., but I'm still just so sad over the state of America that this is, like, normal?
Yes, I realize it's from 2006, but let's be real, how much has changed? We're being governed by a man who bragged about grabbing women by the p*ssy and literally four days ago called someone a "son of a b*tch" in a speech. Ivanka's had over a decade since this interview to learn some lessons. You'd hope one of them would be to call out this bullsh*t and stop objectifying language used on women. But honestly, how many of us have any of that sort of hope anymore?