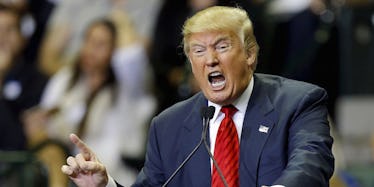 Wait...Donald Trump Just Said He 'Can Relate' To Challenges Black People Face
REUTERS
Presumed Republican presidential nominee Donald Trump, who's lied in at least 76 percent of his fact-checked statements, according to Politifact, said he "can relate" to the experiences of black people in America.
Trump told Bill O'Reilly, who's previously called Black Lives Matter a "hate group" akin to the Ku Klux Klan, he actually agrees the system is rigged against black people.
Trump said,
They're not necessarily wrong. There are certain people where unfortunately that comes into play, and I'm not saying that. I can relate it really very much to myself.
O'Reilly then asked Trump, whose rallies have included black protesters getting beaten up, if he understands the African-American experience.
Trump replied,
Well, I'd like to say yes, but you really can't unless you're African-American. You can't truly understand what's going on unless you're African-American.
Trump, who once asked a crowd to "look at my African-American over here," did express sympathy for Alton Sterling and Philando Castile, black men who were shot and killed by the police last week.
Trump also told O'Reilly the term "Black Lives Matter" is "divisive," and he thinks the movement is "dividing America."
Check out the full clip in the video below.
Citations: Donald Trump's file (PolitiFact), Fox's Bill O'Reilly Says Black Lives Matter Is A "Hate Group" That Wants Police Officers Dead (Media Matters for America), Trump Says System Is Rigged Against Black People—and Him (Complex), Black Protester Is Sucker-Punched by White Donald Trump Supporter at Rally (The New York Times), This Is What It Looks Like to Get Beat Up at a Trump Rally (Mother Jones), Trump on black supporter: 'Look at my African-American over here' (CNN)