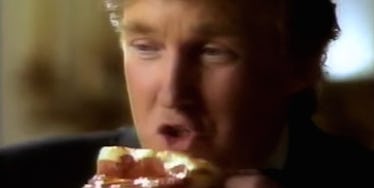 Donald Trump Once Starred In A Pizza Hut Commercial And It's So, So Sexual
YouTube
President Donald Trump was once in a Pizza Hut commercial, and it's extremely sexual.
Given that he's been accused of sexual assault by multiple women and was caught bragging about sexual assault on video -- among the numerous other offensive remarks he's made about women in public -- this ad feels pretty creepy now.
Autographed storyboards from the commercial are for sale for $15,000 by the ad's creative director, which is why people are talking about it again.
The commercial, which is filled with sexual innuendo, is from 1995. It also stars Trump's first wife, Ivana.
It was shot four years after their very messy divorce, after Trump's highly publicized affair with Marla Maples.
In her divorce deposition, which was revealed in the 1993 book "Lost Tycoon: The Many Lives of Donald J. Trump," Ivana accused Trump of rape.
When the book came out, Trump and his lawyers provided a statement from Ivana in which she walked back on her earlier claims.
During a deposition given by me in connection with my matrimonial case, I stated that my husband had raped me. [O]n one occasion during 1989, Mr. Trump and I had marital relations in which he behaved very differently toward me than he had during our marriage. As a woman, I felt violated, as the love and tenderness, which he normally exhibited towards me, was absent. I referred to this as a 'rape,' but I do not want my words to be interpreted in a literal or criminal sense.
So, she initially said he raped her, but then changed her tone somewhat to say she "felt violated."
Either way, it's very unsettling, and it's also particularly disturbing this commercial was dubbed "Pizza Slut" behind the scenes.
This commercial is yet another reminder of Trump's deeply troubled relationship with women, and that our new president is someone who's spent his entire life trying to market himself to others.
Citations: Ex-Wife: Donald Trump Made Me Feel 'Violated' During Sex (The Daily Beast), Marla Maples Recalls 'Awful' Tabloid Scandal Surrounding Donald Trump's First Divorce, Says She Tried to Make Amends with Ivana: 'I Really Hope, for Her Sake, That She Can Forgive Me' (People), Trump's 1995 Pizza Slut Commercial (Moments In Time)