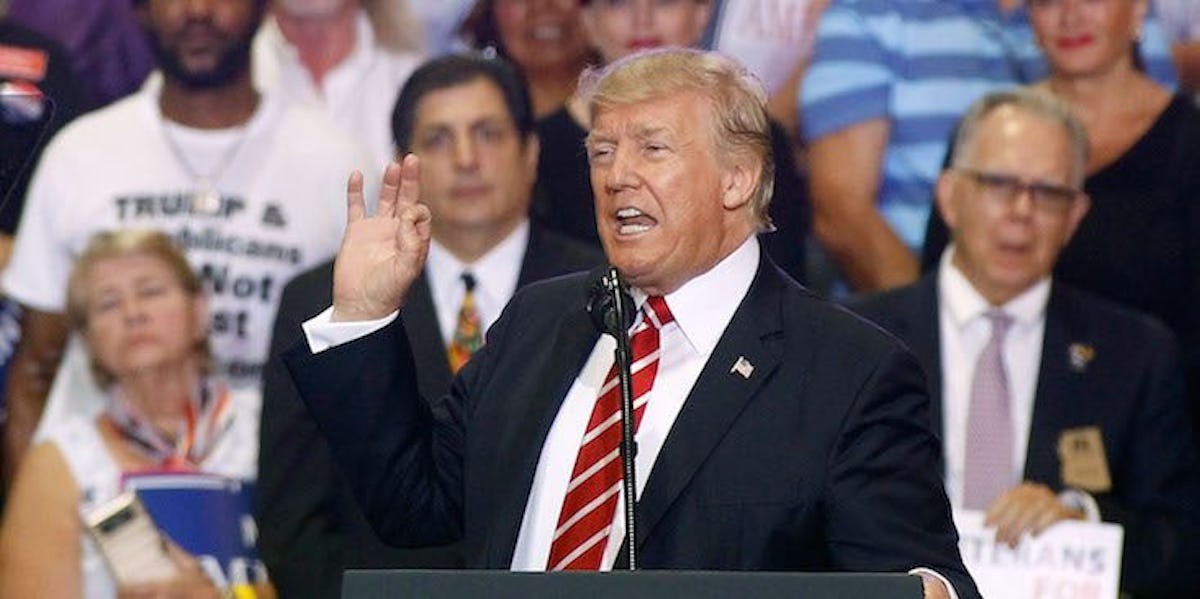 Donald Trump Just Essentially Promised To Pardon Joe Arpaio, And Twitter Is Furious
Ralph Freso/Getty Images
Donald Trump has been teasing whether or not he'll pardon convicted former Arizona sheriff Joe Arpaio for the past week, and on Tuesday night he doubled down on the possibility. At a rally in Phoenix, Arizona, Trump essentially said he would pardon Arpaio in front of a crowd of supporters, and the internet was. Not. Happy. On social media, tweets about Trump's promise to pardon Joe Arpaio quickly took off.
At the Aug. 22 rally, Trump asked a crowd of his supporters how they felt about Arpaio, who was convicted of criminal contempt in late July after refusing a court order to stop racial profiling.
"By the way, I'm just curious — do the people in this room like Sheriff Joe?" Trump asked. The crowd erupted in cheers, with many standing up and chanting their support of Arpaio. Trump continued, "So was Sheriff Joe convicted for doing his job?" The crowd yelled a chorus of "yeah!"
Trump went on,
He shoulda had a jury, but you know what? I'll make a prediction. I think he's gonna be just fine, OK? But! But, I won't do it tonight, because I don't want to cause any controversy. Is that OK? All right? But Sheriff Joe can feel good.
Well. That seems pretty clear.
The comments on Arpaio also came only shortly after Trump pushed back on criticism that he hadn't responded harshly enough to white supremacy in Charlottesville, Virginia, saying that he "openly called for unity, healing, and love," but overlooking the "many sides" comments that had drawn fire in the first place.
So Twitter found it pretty ironic that he chose to follow that defense with a coded promise to pardon someone accused of racism.
Arpaio is a polarizing figure in conversations about undocumented immigrants, racism, and racial profiling. A former Maricopa County sheriff, Arpaio's office was accused of racial profiling for targeting Latinos for immigration enforcement operations, zeroing in on Hispanic neighborhoods for sweeps and "pre textual" traffic stops, and subsequently found guilty in 2013, per AZ Central.
The office was ordered by a federal court to put a stop to its immigration roundups, but ignored the order. And it came back to bite Arpaio personally; on July 31, U.S. District Judge Susan Bolton found Arpaio guilty of criminal contempt for "flagrant disregard" of the order, according to The Los Angeles Times. He faces six months in jail, and sentencing is scheduled for early October.
So when on Aug. 14, Trump suggested shortly after a violent white supremacist rally in Charlottesville, Virginia, left one dead — and shortly after he declined to denounce white supremacy in his initial response to the violence — that he might pardon Arpaio, it struck a chord.
And when he effectively promised it again after defending that same response, it was even worse.
Trump then — thematically — went on to relate undocumented immigrants with violent crime, saying that the people of Arizona know about, "lost lives, the drugs, the gangs, the cartels, the crisis of smuggling and trafficking" as a consequence of undocumented immigration. He also suggested that immigration enforcement was "liberating" towns in Long Island.
Contrary to Trump's claims, immigrants are actually less likely to commit crimes than people born in the United States, and there's no evidence to say that undocumented immigrants are any different. But, that doesn't seem to matter to Trump.
Welp. Once you've broken 1,000 false claims, what's a few more?