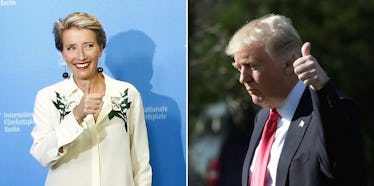 Donald Trump Once Asked Mrs. Potts Out On A Date And Her Response Was Epic
REUTERS
Emma Thompson revealed Donald Trump once tracked her down to ask her out on a date.
The "Beauty and the Beast" actress told the story in an interview with SVT, a Swedish television outlet.
It's a pretty bizarre tale (though not quite as bizarre as a talking teapot).
Think of it this way: Imagine a guy in high school you didn't really know randomly asked you to prom, and you said no because, um, who TF are you?
Now imagine that guy went on to become president of the United States in one of the most contentious elections in history.
Yeah, that's basically what Thompson is going through right now.
In the 1990s, Thompson was filming a movie called "Primary Colors" with John Travolta in Hollywood.
Hilariously, that movie was actually loosely based on the 1992 election of Bill Clinton. Thompson was playing a character based on Hillary Clinton. I'm still too emotionally worn out from 2016 to make a joke about all that.
So Thompson was hanging out in her trailer on the Universal lot.
"I had just been divorced and my decree absolute has just come through, like, the day before," she said.
Suddenly, the telephone in her trailer started ringing. This was strange because the phone had never rung before.
"I look at it and it's, like, weird. It's like a moose has just entered my trailer," Thompson explained.
Meanwhile, Trump, too, had just gone through with a separation from second wife Marla Maples. This was, clearly, before the jolly, love-filled Melania days.
Thompson continued,
I lift up the phone. 'Hi, it's Donald Trump here.' I said, 'Really? Can I help you?" And he said, 'Yeah, I just you know, I wondered if I could offer you some accommodation in one of my Trump Towers. They're really comfortable.'
But this was clearly just a ruse. The future president went on to ask Thompson to "have dinner sometime."
"Well, you know, I think we would get on very well," Trump said, according to Thompson.
She responded,
OK, well I'll get back to you! Thank you so much for ringing.
And then... SHE NEVER GOT BACK TO HIM.
Yeah, that's right, Thompson straight ghosted Trump.
In the interview, Thompson quipped she wishes she had accepted his invitation -- "Think of the stories!"
Great point, Emma, but this is a pretty great story as is. Thompson, who supports human rights and environmentalism, went on to marry actor and producer Greg Wise in 2003.
It seems to have worked out for everyone.
Citations: Donald Trump Once Asked Emma Thompson Out On A Date & Her Response Was Priceless (Refinery29), Emma Thompson Kind Of Regrets Turning Donald Trump Down For A Date (Huffington Post)