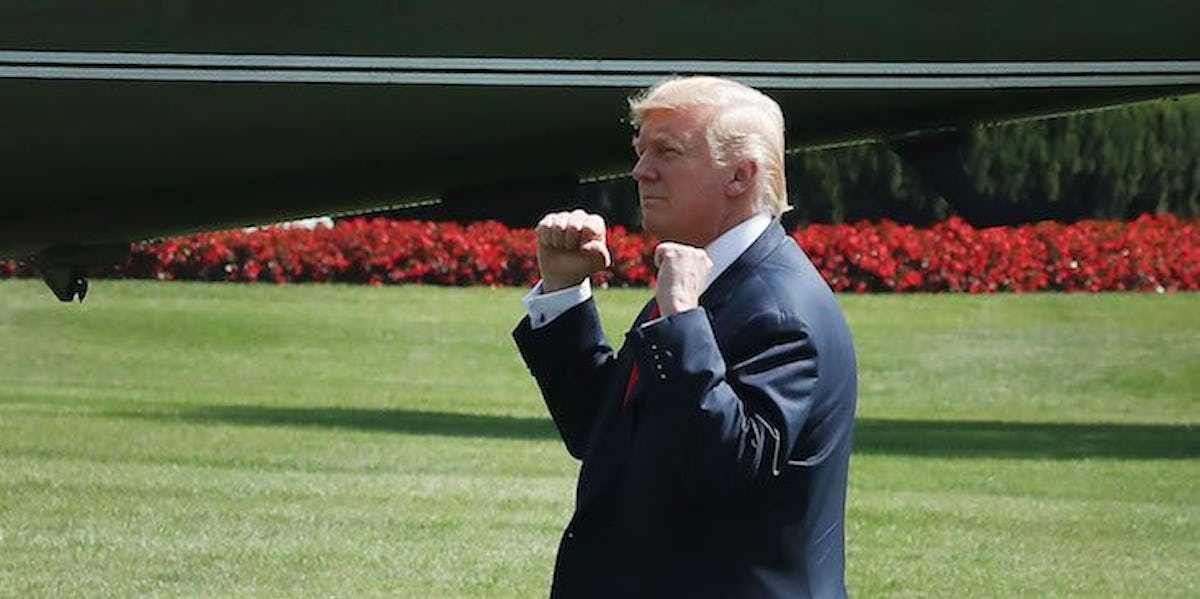 Trump Says North Korea Threats Will Boost Guam Tourism And We're Like, "What?"
Mark Wilson/Getty Images
While the rest of the world worried about nuclear war, President Donald Trump found a silver lining to his ongoing feud with North Korea. In a phone call with the U.S. territory's governor, Eddie Calvo, Trump said Guam's tourism would increase "tenfold" after being threatened with a missile strike by North Korea. And everyone who doesn't want a side of radiation poisoning with their piña colada went, "huh?"
The president called the Republican governor on Aug. 11, to reassure him of support after an increasingly acrimonious exchange between the United States and North Korea, according to The New York Times. He told the governor that when it came to Guam, "we are with you 1000%. You are safe."
But amid the reassurances, something seemed… off. As part of the short conversation, Trump also assured Calvo that he had become "extremely famous" as a result of Guam being in the press and said that tourism in the U.S. territory would go up "tenfold."
Trump said,
Eddie, I have to tell you, you've become extremely famous. All over the world they're talking about Guam and they're talking about you. And I think your tourism, I can say this, your tourism, you're going to go up like tenfold with the expenditure of no money, so I congratulate you. It looks beautiful. You know I'm watching. They're showing so much. It's such a big story in the news, it just looks like a beautiful place. So beautiful.
Calvo posted a video of the call to his Facebook page, as well as YouTube.
The reason, of course, that Guam is in the news is because of Trump's threats regarding North Korea.
On Aug. 8, Trump told reporters than any threats from North Korea would be met with "fire and fury," comments which helped aggravate an already tetchy relationship between the two nations. North Korea quickly replied by leveling threats against Guam, a U.S. territory with a heavy military presence which sits about 2,100 miles from the North Korean capital of Pyongyang. Now, Guamanian residents are nervously watching developments between the two nations.
So I don't know about everyone else, but an impending missile strike is not exactly what I'm looking for when it comes to an island paradise getaway.
Trump hasn't made many moves to deescalate things since, either. On Aug. 11, he said that military solutions are "locked and loaded" should North Korea continue its threats.
While Calvo seemed to accept Trump's reassurances, not everyone is on the same page.
While Calvo told Trump that he has "never felt more safe or so confident with you at the helm," Guamanian authorities were busy prepping for the worst.
Guam Homeland Security and Office of Civil Defense released a fact sheet on how to survive a nuclear attack via their social media on Thursday, CNN reported. The downloadable fact sheets are captioned, "in case of emergency."
Well, at least someone is planning.