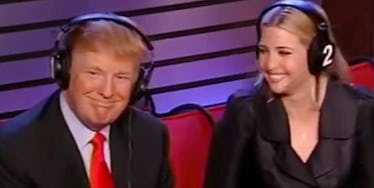 Trump Admits He's A 'Sexual Predator' In 2006 Clip -- And Ivanka Just Laughs
YouTube
Alright, everyone! We've gotten confirmation from Donald Trump himself that he is indeed a sexual predator.
By now, you're probably saying, "Amanda, tell us something we don't know," right?
I'm serious, though.
He made the confession during Howard Stern's talk show in 2006 -- one year after he bragged about his star-studded pussy-grabbing abilities to Billy Bush.
The talk show, co-hosted by Robin Quivers, had Trump on to promote "The Apprentice."
According to DailyMail.com, Ivanka and Donald Trump Jr. attended the show's taping as well.
The New York Post dug up a clip from the interview that shows Stern calling Donald a sexual predator, and Donald agreeing to the description.
Apparently, the conversation started when Stern asked the Republican nominee if he had ever discussed the topic of sex with Ivanka.
After he responded, "No," Stern took the conversation to a whole new level of awkward.
Verbatim, the talk show host says,
Donald, seriously, you know about sexual predators and things like that I mean...
Then, Quivers chimes in without hesitation and says,
You are one!
Just when Donald had the golden opportunity to defend himself, he shrugged his shoulders and mouthed, "That's true."
To make matters even weirder, Ivanka laughed it off and patted her father on the back, as if being a sexual predator is something to be proud of.
But, in reality, laughing about being a predator is really fucking offensive and extremely unsettling -- especially when you're running to become the president of the United States.
I digress.
Moral of the story: If Donald hopes to persuade the nation he's got "tremendous respect for women," he should probably never call himself a "sexual predator" ever again.
Even so, more and more women are coming forth every day with sexual assault claims against Donald Trump, and it's going to be very difficult to comfort a majority of the female population if he becomes elected.
Citations: Dailymail.com