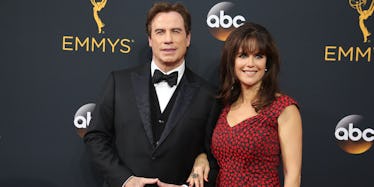 Trump Fondly Recalls Hitting On Kelly Preston In Post About Her Son's Death
REUTERS
At this point in the election, if you heard Donald Trump admit to organizing a baby-fighting ring, you would probably just roll your eyes and move on.
Still, the horror stories from Trump's past keep coming, and reading this one about his relationship with Kelly Preston is the perfect way to pregame Halloween.
In 2009, John Travolta and Kelly Preston's son Jett tragically passed away. He was only 16 years old.
Police believe he died when he hit his head on the bathtub. It's a terrible, harrowing story.
Four days after Jett's sudden passing, Trump decided to weigh in on the tragedy.
He wrote a blog post on Trump University's (yeah, doesn't exist anymore, and the school been sued by the state of New York for fraud) website.
The blog post was dedicated to Kelly Preston, and is basically just Trump praising her for being able to resist his romantic advances.
My track record on this subject has always been outstanding, but Kelly wouldn't give me the time of day.
Let me remind you, once again, this is a post meant to give condolences to two grieving parents who have just lost their teenage son in a freak accident.
It reads as follows:
I have always respected people who were loyal and faithful--which brings to mind Kelly Preston. A long time ago, before I was married, I met Kelly Preston at a club and worked like hell to try and pick her up. She was beautiful, personable, and definitely had allure. At the time I had no idea she was married to John Travolta.
(In the original draft of this post, I can only assume this paragraph was followed with:
"Of course, if I had known that at the time, I would've asked her if she wanted to make love in front of a camera and send Travolta the tape of it, as my shriveled penis also swells with blood at the thought of someone else's suffering.")
The blog post goes on:
In any event, my track record on this subject has always been outstanding, but Kelly wouldn't give me the time of day.
Now that we've heard about his "methods" regarding his "track record," it's safe to say Preston's ability to resist Trump's advances was likely due to her ability to outrun him.
She was very nice, very elegant, but I didn't have a chance with her, and that was that. When I later found out she was married to John, I liked and respected her even more. Some people have values that matter to them, and she is one of them. Her loyalty was unwavering and I have always remembered that about her.
Yes, because any human woman who can resist the sexual magnetism of Donald Trump's jaundiced skin and gangrene soul is the picture of loyalty and monogamy.
They should tell the story of how Preston resisted the grotesque sexual advances of an aging reality TV star in abstinence classes all over this country.
It'll be a model for young students on how to battle desire, no matter how strongly it tugs at your heart.
Being true to someone is very close to being true to yourself. That's a valuable attribute in today's world. I'm sure she was a wonderful mother to Jett and my thoughts are with her and her family after their terrible loss.
Yes, the only time he actually mentions the loss of Preston and Travolta's son is in the last sentence.
I just...I don't even know what to say.
It's like there's a very creative and prolific think tank locked in a room somewhere with a mound of Adderall, just coming up with the worst things a person can say or do.
I don't want to editorialize too much, but let's just say I think he's the human version of a distended colon.
Please, sweet readers, please vote on November 8.
Elite Daily and 50 other media organizations partnered with Rock The Vote to register 100,000 women to vote. You can register right here (and men can use it too) :
Citations: Mother Jones, TV Guide