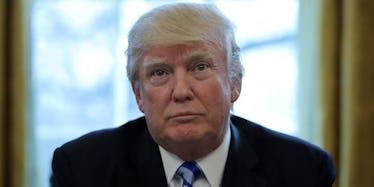 Trump Rants About How He Can't Make Mistakes On Live TV, Makes Painful Mistake
REUTERS
This might be surprising to hear, but Donald Trump does actually know how important it is to not screw up on live TV.
I mean, this is a guy with a ton of experience in front of the camera, whether it's as host of "The Apprentice" or making a random appearance on WWE.
Yes, that really happened.
Anyway, a hilarious clip has emerged of the POTUS telling people around him how crucial it is not to make a mistake when you're being filmed, only to apparently drop the ball seconds later.
Watch the super cringeworthy footage for yourself.
According to C-SPAN footage, while addressing a bunch of middle-aged white men (naturally) at the meeting, Trump explains,
All this live television, it's always live for me. You know unfortunately for the other guys they make a speech and nobody cares, but for me everything is live. One mistake and it's no good. But we just can't make mistakes, right? So we don't make mistakes.
If you ignore the usual self-centered rambling from our president, this advice is actually... not horrible?
But it's what happened next that had everyone in stitches.
Trump added,
Go ahead, Ken.
He then slaps the arm of the man next to him, who responds,
I'm Chuck Canterbury of the National President of the Fraternal Order of Police from South Carolina.
I mean, I sometimes struggle to remember names, but come on, dude!
However, as funny as this short clip is, and despite the way it looks, for once Trump didn't actually make a mistake here.
Canterbury uses the name "Chuck" on Twitter and his official FOP website, but his real name is "Kenneth," which was the name on the guest list at the meeting.
John McNesby, president of Philadelphia's Fraternal Order of Police, told Philly Voice,
That's crazy. The guy's going to make mistakes, but that's not a mistake.
Regardless, people on Twitter had a field day as they imagined Trump's reaction to finding out about the mistake that wasn't.
OK, so let's check the official White House transcript:
Mistake, non-mistake or whatever the hell this weird thing was, Trump's crew deemed it significant enough to pretend it never happened.
If only we could do the same with his presidency.
Citations: Philly FOP president debunks viral video of Trump making 'mistake' (Philly Voice)