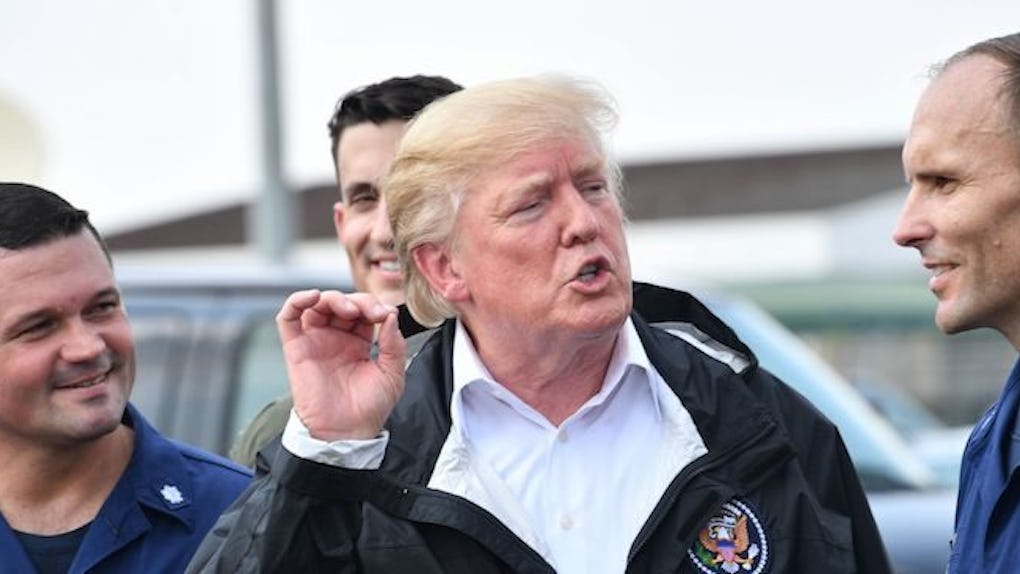 NICHOLAS KAMM/AFP/Getty Images
Donald Trump Says Hurricane Irma & Hurricane Harvey Have Improved The Coast Guard's Brand
President Donald Trump should be pretty well informed about what not to do in a disaster situation by this point. After being criticized for his initial response to last month's Hurricane Harvey, should know by now to stick to public expressions of concern for those affected and discussions of how to help. But it looks like he hasn't learned his lesson yet. The president stuck his foot in his mouth again on Sept. 10, when Trump said hurricanes were improving the Coast Guard's brand.
Trump started the statement he made to a reporter in the White House pool on Sunday right. As Hurricane Irma pounded Florida, devastating the state with catastrophic flooding, intense wind, and heavy rain, the president began by praising the work of the government agencies working to help, like the Coast Guard. Trump said that "a group that really deserves tremendous credit is the United States Coast Guard," according to The Hill. So far, so good — acknowledging the severity of the situation, praising those who are risking their own safety to help, talking up his administration's response an acceptable, but not boastful, amount.
But then, he screwed the pooch. Trump quickly reminded us of his inability to overlook a branding opportunity, no matter how gauche or mistimed. He said,
What they've done — I mean, they've gone right into that, and you never know. When you go in there, you don't know if you're going to come out. They are really — if you talk about branding, no brand has improved more than the United States Coast Guard.
Oh, no. Oh, Donald, Donald, Donald. You were doing so well. Okay, it was for, like, a split second, but hey, the bar is pretty low these days.
Just in case it needs to be said: no, the Coast Guard probably isn't worried about their "brand."
The Coast Guard is, currently, probably worried most about A) saving lives across Florida, Puerto Rico, and the Virgin Islands, which have all been heavily hit by the storm, B) keeping their own people and resources safe, and a possible third of C) getting the funding that they need which Trump's budget wants to cap.
On ABC News' This Week on Sept. 10, Rear Admiral Peter Brown said that the Coast Guard was focused on recovery in the places that the storm had hit, and getting channels of travel open again to bring first responders and resources to the people who need them.
He also acknowledged that the resources of the Coast Guard were stretched, with many people and resources being moved right from Harvey recovery to helping with Irma. He said,
My district is also responsible for Coast Guard operations in Puerto Rico and the U.S. Virgin Islands, and those response operations have been going on for several days now. ... Many of the same assets and people who responded to Harvey have now reprovisioned and repositioned to be ready to respond to Hurricane Irma. And although the storms are different and the threats are a little bit different, we'll take the lessons learned from our recent experience with Hurricane Harvey and apply it to respond to Hurricane Irma.
It's not Trump's first flub when it comes to responding to a major disaster.
In late August, he took heat for traveling to Houston, Texas in the wake of Hurricane Harvey — only to avoid meeting with any actual survivors of the storm. On a second try, Trump and First Lady Melania went to a shelter for people who had been displaced by the storm, where they helped distribute meals and told survivors to "have a good time." There were some raised eyebrows before the couple got to Houston, as well — both times, the first lady got criticism for wearing stiletto heels as she headed out to supposedly lend a hand to people who had lost everything to flooding.
 So, Donald. Let's go over what we've learned. In a natural disaster, when people have lost everything, DO: meet with those affected; express your concern and sympathy; and tell people what you're doing to help. DO NOT: gladhand; wear inappropriate footwear; or express a bizarre concern with branding. You get me?
Well, Trump is scheduled to go visit Florida "soon." I guess we'll see.