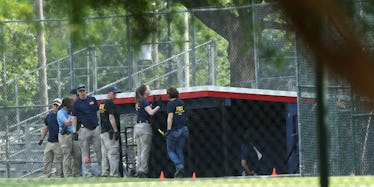 Dog Who Ran Away At Congressional Baseball Shooting Was "Delighted" To Be Found
Alex Wong/Getty Images
A dog who ran off in the chaos of the Alexandria, Virginia shooting yesterday has been found.
The dog, a pointer mix named Daphne, ran away from a dog park located near the baseball diamond where the shooting took place in the Del Ray neighborhood of Alexandria. She was reported to be wearing a pink harness and a blue leash.
Congressional Republicans were practicing for the annual Congressional Baseball Game for Charity when a gunman opened fire.
Six people were wounded in the shooting, including House Majority Whip Steve Scalise, who was shot in the hip. As of this morning, the Los Angeles Times has reported that "his condition is critical, and he will require additional operations."
Rep. Mo Brooks, who was at the field when the shooting occurred, told CNN that the gunman fired "50 to 100" shots from a rifle before Capitol Police neutralized the situation. (Scalise, as Majority Whip, is one several members of Congress who receives a security detail off Capitol grounds.)
Daphne was at a dog park near the baseball field with her dog walker when the shooting started. She was scared off by the sound of gunshots, according to the Animal Welfare League of Alexandria
The dog and her sitter were reunited on Thursday morning, according to the Huffington Post. The owner is out of town.
"She is being reunited with her pet sitter, right in front of me," Abbie Hubbard, deputy director of the League, told HuffPost. "I can tell you that Daphne is very delighted."
The animal rescue nonprofit posted pictures of a relieved-looking Daphne, safe and sound and ready to go home.
When she went missing, local publications, such as Patch and the local Fox affiliate, and area animal rescues put out a call to keep an eye out for Daphne:
Those on the lookout were told not to approach Daphne for fear of scaring her and instead to call the police or the Animal Welfare League.
Elite Daily reached out to the Alexandria Police Department but did not hear back at time of publication.