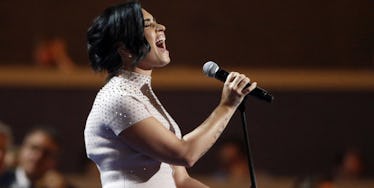 Demi Lovato Just Burst Into Song At The Democratic National Convention
REUTERS
Demi Lovato gave a speech at the Democratic National Convention -- and then broke into song.
Lovato has publicly supported Hillary Clinton through this year's presidential election. Back in January, she officially began campaigning for Clinton. She has appeared at Clinton events and spoken proudly about her.
But Hillary isn't the only aspect of politics that interests her. Lovato had a very public struggle with mental illness. She lives with bipolar disorder and has sought treatment for it. She has also been to rehab facilities.
More recently, Lovato has been very vocal about the need for care for mental illnesses. She is an inspiration to many.
Lovato spoke at the Democratic National Convention in Philadelphia on Monday, the first day of the convention. Although things were tense at the start of the convention, Lovato was able to ease the mood for a while.
She started by speaking about mental illness. She said,
I'm here today as proof that you can live a normal and empowered life with mental illness. I'm proud to support a presidential candidate who will fight to ensure all people living with mental health conditions get the care they need to lead fulfilling lives. That candidate is Hillary Clinton.
Lovato then broke into her hit single "Confident," because YOLO.
This is a marked difference from the first night of the Republican National Convention last week in Cleveland, Ohio. Donald Trump was not able to get any celebrities to show up -- unless you count Scott Baio as a celebrity, I guess.
Throughout the chaos and discord of the start of this DNC, at least Clinton was able to get people of note to attend, from political leaders to awesome celebs like Lovato.
Things might be shady, but at least they're not completely shameful.
Citations: Huffington Post