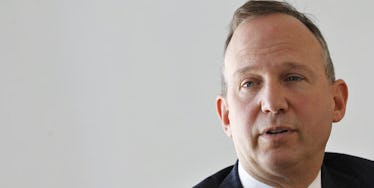 Meet The 55-Year-Old Male Governor Trying To Get IUDs For Everyone
REUTERS / Brendan McDermid
At first glance, Delaware Governor Jack Markell might not be the first person you'd expect to champion women's reproductive rights.
The 55-year-old Democrat has served as governor since 2009, and this year, he set out on a grand initiative to get women same-day access to free to low-cost long-acting reversible contraceptives (LARCs), like IUDs and implants.
Markell announced this in his State of the State address in January.
He said,
I got into politics with the simple idea that we could create an environment where more people could achieve their full potential. I've come to believe that helping women achieve their own goals and become pregnant only when they want to may be one of the most important things we can do in this regard.
Delaware has one of the highest rates of unplanned pregnancy in the country at 57 percent. But rather than thinking about contraceptives as a way to prevent unplanned pregnancies, Markell sees them as a way to provide more opportunities for the people of Delaware.
Last week, I had the opportunity to speak with Markell. In the interview, he explained the idea was brought to him by Mark Edwards, co-founder of Upstream USA, a group working to make LARCs more accessible.
Markell hadn't really thought about long-acting contraceptives as an issue before, but when Edwards presented data to him, he thought,
It's like, gosh, this makes all the sense in the world.
Markell has met many women and men who have had to drop out of school and lose jobs because of unplanned pregnancies.
Unplanned pregnancies frequently happen due to a failure of other forms of contraceptives, like condoms and the birth control pill, which can fail when not used properly. LARCs, on the other hand, have very, very low incidences of failure to prevent pregnancy.
Like their names suggests, IUDs and implants are reversible. Each one is implanted by a medical professional, and once you decide to take it out, you can still become pregnant.
Earlier this month, Edwards told Elite Daily,
The ultimate goal is that women can become pregnant only when they want to.
The important thing, Edwards added, is for women to have actual choices in their contraceptive methods. Although IUDs and the implant come highly recommended by the American Congress of Obstetricians and Gynecologists, they tend to have high, prohibitive prices.
Delaware's Contraceptive Access Now initiative is being privately funded through various philanthropic initiatives, and Delaware is reallocating $1.75 million from the Division of Public Health to the project, the state announced last month.
Upstream USA is training healthcare providers and raising public awareness. Edwards said,
Governor Markell and his leadership team ... have been incredibly supportive, and it makes an enormous difference. This is a priority for the governor -- he's made it clear it's a priority -- and as a result everyone is getting in line to support.
Markell predicts this initiative will have a huge impact on Delaware residents.
He told Elite Daily,
It's a whole different world for [women], potentially for the fathers, and definitely for the children.
Markell urges fellow governors -- even middle-aged men like himself -- to think seriously about the beneficial outcomes they can create by helping women make the right reproductive choices for themselves.
And he gets it's a little odd to be seen as a champion for IUDs, saying,
It is what it is. I just think this is a really important initiative. It may make some people somewhat uncomfortable to have a 55-year-old man talking about it, but in the end I have the platform to bring the visibility to what I think is a really important issue.
Although Markell may not have initially thought of the issue, he listened when Edwards presented the idea. Like Edwards said, Markell actively moved forward to make the idea a reality, which, in turn, is making other organizations step up to the task.
This is a proper way to be an ally for women: Listen thoughtfully, step up, give credit where it's due and use your platform responsibly.
In a year when Planned Parenthood is continuing to be attacked and abortion access is being lost around the country, it's pretty sweet to hear a politician taking an important and impactful stand like this.