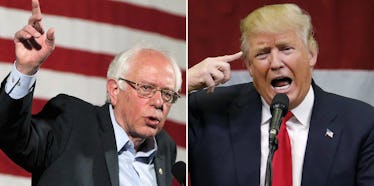 You're Less Likely To Land A Date If You Support This Presidential Candidate
Reuters/Brian Snyder/Carlo Allegri
Forty percent of single women said they would not date someone who supports Donald Trump for president, according to a new survey by dating site PlentyOfFish.
POF surveyed over 4,000 American singles to see how politics affects dating choices. The site found it's rough out there for Trump supporters -- yet another reason to rethink that support.
POF's survey found the average Trump supporter is a white man in his early 50s with a slightly higher than average income. But, the average supporter has slightly lower-than-average education. Singles with just a high school education are over two times as likely to be Trump supporters when compared to more educated supporters.
PlentyOfFish also found white men who support Trump are less than half as likely as people who support other candidates to message someone from a different ethnicity.
Dating and politics are a pretty fraught combination. While politics is a non-issue for some people, others feel very strongly they could not date people who do not hold the same political perspectives they do.
For the person who cares about a date's politics, PlentyOfFish had some good advice.
It said,
Navigating politics in your love life can be complicated, but it's a topic many singles will have to tackle with someone they're dating, especially in the months leading up to an election. Approach this conversation with caution, and always be respectful of the other person's views -- no matter how different they are than your own. We've seen couples overcome much greater obstacles than dating across the aisle!
Forty-four percent of people said they would be willing to date someone with very different political views, but 25 percent said they would not be willing.
Most of the surveyed people of both genders identified as Independents, while 31.5 percent identified as Democrats and 21.5 percent identified as Republicans.
Among the single ladies, most were Democrats at 38 percent, with Independents just behind at 37 percent. Independents made up most of the surveyed single men at 43 percent, and there was about an equal split of Republicans and Democrats.
Nearly three-fourths, 71 percent, of singles surveyed said they would be voting in the upcoming presidential election. I hope that number will go up as November approaches, because 16 percent of singles said they were unsure if they would be voting in November.
One thing is for sure: Singles are definitely feeling the Bern. Bernie Sanders was the most favored candidate among singles.