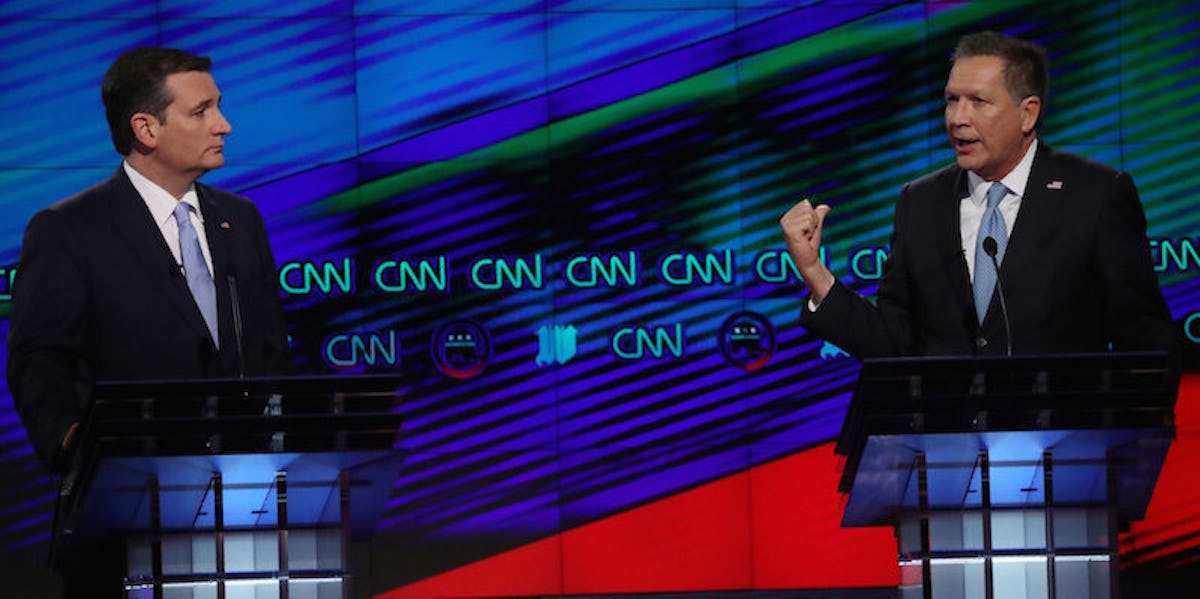 Ted Cruz And John Kasich Just Formed An Alliance To Stop Donald Trump
REUTERS/Carlo Allegri
On Sunday night, Republican presidential candidates Ted Cruz and John Kasich issued statements signifying they're forming an alliance against Donald Trump to stop him from winning the GOP nomination, CNN reports.
This is a big deal as two of the remaining candidates, who are still competing against one another, are exhibiting unity against the Republican front-runner, Trump.
The Ohio governor and Texas senator are by no means on the same page politically, but it appears they're willing to do whatever it takes to prevent Trump from receiving the 1,237 delegates needed to win the Republican nomination.
They hope to accomplish this by dividing their efforts in impending primary contents. Cruz will focus on Indiana, while Kasich will focus on Oregon and New Mexico, clearing paths for one another in their respective states.
Ultimately, the two are hoping this partnership will lead to a contested convention. Kasich's campaign released a statement, saying,
Our goal is to have an open convention in Cleveland, where we are confident a candidate capable of uniting the Party and winning in November will emerge as the nominee... Due to the fact that the Indiana primary is winner-take-all statewide and by congressional district, keeping Trump from winning a plurality in Indiana is critical to keeping him under 1237 bound delegates before Cleveland. We are very comfortable with our delegate position in Indiana already, and given the current dynamics of the primary there, we will shift our campaign's resources West and give the Cruz campaign a clear path in Indiana. In turn, we will focus our time and resources in New Mexico and Oregon...
Correspondingly, Cruz's campaign manager, Jeff Roe, released a statement. It said,
Having Donald Trump at the top of the ticket in November would be a sure disaster for Republicans. Not only would Trump get blown out by Clinton or Sanders, but having him as our nominee would set the party back a generation. To ensure that we nominate a Republican who can unify the Republican Party and win in November, our campaign will focus its time and resources in Indiana and in turn clear the path for Gov. Kasich to compete in Oregon and New Mexico, and we would hope that allies of both campaigns would follow our lead.
Trump, unsurprisingly, was not amused by this move. He described the alliance as an act of "desperation."
Mathematically, neither Cruz nor Kasich can clinch the nomination prior to the convention. This is precisely why they are teaming up. They're essentially admitting they cannot defeat Trump alone.
Citations: Ted Cruz, John Kasich join forces to stop Donald Trump (CNN), Cruz and Kasich have finally admitted the obvious: neither of them can stop Trump alone (Vox)