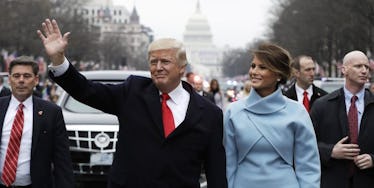 Conspiracy Theory Says Trump Security Wore Creepy Fake Hands To Inauguration
REUTERS
The internet says the darnedest things.
Social media is awash with a new conspiracy theory.
It believes a secret service agent protecting President Donald Trump, First Lady Melania Trump and other members of the Trump family was wearing fake arms in order to hold a gun under his coat so he could quickly take down any potential assassins.
Humans really are simple creatures.
Why people chose to focus on this is a bit baffling.
But, just to clarify: No, the secret service was not wearing fake arms.
As MailOnline reports, this theory was quickly undermined when video emerged showing the secret agent moving his arms and using his hands.
The 45th president and his family had a significant number of secret service agents around them as they went walking down Pennsylvania Avenue after the inauguration on Friday, January 20.
But all of these agents had real body parts, and as far as we know, there were no robot bodyguards hanging out, either (although, that could be a real possibility in the not-so-distant future).
Regarding America's new president, the secret service and firearms, a secret service agent is also under investigation for something she said about America's new president.
The agent in question, Kerry O'Grady, a senior field agent in the Denver office, wrote Facebook posts during the US presidential campaign about President Trump suggesting she would not take a bullet for him if it came down to it.
According to CNN, O'Grady wrote,
As a public servant for nearly 23 years, I struggle not to violate the Hatch Act. So I keep quiet and skirt the median. To do otherwise can be a criminal offense for those in my position. Despite the fact that I am expected to take a bullet for both sides. But this world has changed and I have changed. And I would take jail time over a bullet or an endorsement for what I believe to be disaster to this country and the strong and amazing women and minorities who reside here. Hatch Act be damned. I am with Her.
The Hatch Act prohibits federal agents like O'Grady from expressing their political opinions in public.
O'Grady didn't seem to care she was in violation of this at the time and made it explicitly clear she supported Hillary Clinton but has since deleted her Facebook posts.
The secret service said on Tuesday it is taking "quick and appropriate action" in response to this.
While O'Grady's comments were, indeed, controversial, they do reflect how deeply unpopular Trump is across the US populace.
According to Gallup (as of January 24), President Trump has a 46 percent approval rating, which happens to be the lowest rating of any new president since 1945.