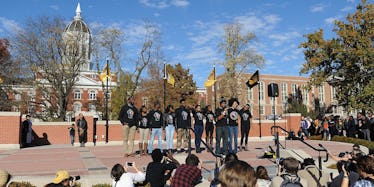 2015 Showed Us How College Students Can Take Control Of Their Schools
Getty Images
In the fall of 2014, students at the University of Missouri joined the Black Lives Matter movement protesting the non-indictments of the police officers who shot Michael Brown and Eric Garner.
They marched to Columbia's City Hall chanting "no justice, no peace." They held rallies, dialogues and demonstrations.
This past fall semester, the campus again hosted demonstrations driven by a reaction to systemic racism.
But this time, the student activists worked to enact real change in their university. The university president and chancellor resigned in early November following a student hunger strike and football team strike.
Mike Middleton, who has a deep resume of civil rights and racial equality work, was announced as the university's interim president. He is the second black administrator to run the university system.
When President Tim Wolfe resigned, students celebrated outside on campus. They attempted to bar press and refused to speak to journalists.
Debates abounded about what that means in terms of the first amendment, which gives us freedom of speech and of the press.
Regardless of what side of the debate you fall on, one point is clear: The student activists were controlling the space they occupied.
Demonstrations about racism on campus also popped up at Yale, Smith College, Ithaca College and Claremont McKenna College.
At Yale and CMC, the protests were prompted by specific events, but -- much like the Black Lives Matter movement -- were really driven by a general feeling of discrimination among students of color, like the protests at the other colleges.
Many of these colleges, too, had demonstrations last year along with the national movement.
The difference this year is activists aren't working just for their voices to be heard -- they're working to gain control within their campuses.
The protests address, as Jelani Cobb wrote at the New Yorker, "the feeling, among students of color, that they are tenants rather than stakeholders in their universities."
Their actions now are working to give them more power within historically white institutions, granting them ownership.
At Ithaca College, students urged their classmates to give President Tom Rochon a vote of "no confidence" after he did not give a satisfying response to a series of racist incidents on campus.
On November 30, results showed this campaign succeeded, with a majority of students voting no confidence. Faculty echoed those sentiments with their own vote of no confidence on December 14.
People of Color at Ithaca College brought Rochon out at a walk-out last week, demanding he speak to their grievances. He has said he hears the protesters, but has not considered resigning. We'll see if there are any changes with the faculty "no confidence" vote.
At Claremont McKenna, the junior class president was asked to resign after appearing in a photo along with white women in stereotyped Mexican Halloween costumes. Dean of Students Mary Spellman resigned in November after students began a hunger strike.
These actions are putting college administrators on notice that they have a responsibility to actively foster a more diverse and inclusive campus.
And some administrators are responding to the call appropriately.
CMC president Hiram Chodosh committed to hiring two new administrators to support diversity and inclusion.
Administrators were present at the demonstrations at Smith and Yale.
A proposed Missouri bill that would prevent students-athletes from boycotting games was swiftly withdrawn after heavy criticism.
Before protests started, Yale introduced a $50 million initiative to increase faculty diversity. The school announced a new initiative to address racial tension after protests started. Although the results and implementation are unclear, at least it's a step.
Students are saying it's not enough to merely be allowed on a campus; they must be represented and safe on that campus.
Minority students are taking the control of their schools they earned with admission. They are doing much more than being heard -- they are forcing schools to actually meet their needs.