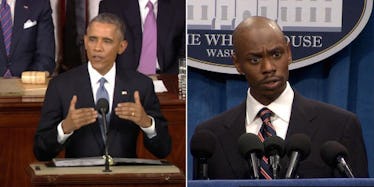 'Chappelle's Show' Predicted Obama's State Of The Union Address (Video)
The State of the Union address is a chance for the president to pat his or herself on the back while simultaneously laying out an agenda for the years to come.
Whether or not you agreed with everything he said, President Obama certainly did both during his speech last night.
He stood up and spoke in front of a Republican-controlled Congress for the first time in his presidency, and took full credit for the recent upturn in America's economy.
President Obama also assured the audience his foreign policy has been both well-calculated and diplomatic.
Additionally, he contended America has been successful in its tenacious and courageous efforts to contain ISIS (or ISIL).
The president stated:
"Our economy is growing and creating jobs at the fastest pace since 1999" - @BarackObama #SOTU — Elite Daily (@EliteDaily) January 21, 2015
"Today it is America that stands strong and united with our allies, while Russia is isolated, with its economy in tatters." —Obama #SOTU — The White House (@WhiteHouse) January 21, 2015
"That's how #AmericaLeads—not with bluster, but with persistent, steady resolve." —President Obama #SOTU pic.twitter.com/cI9J6jdXk6 — The White House (@WhiteHouse) January 21, 2015
"We are leading a broad coalition, including Arab nations, to degrade and ultimately destroy" ISIL —Obama #SOTU pic.twitter.com/hzl7JzjRxB — The White House (@WhiteHouse) January 21, 2015
The president also highlighted America's advances in space exploration and his desire to send American astronauts to Mars.
In other words, Obama stood up in front of the world last night and essentially stated:
Look people, the economy is kicking ass, America is kicking terrorism's ass, and I'm going to kick the future's ass. Also, we're going to Mars... I've got it all under control.
In truth, however, everything the president said last night has already been said before and not by any of his predecessors or other politicians.
Indeed, President Obama's 2015 State of the Union address was predicted by none other than Dave Chappelle about 10 years ago.
Chappelle, we knew you were a genius, but we didn't know you could predict the future.
If you don't believe me, watch the clip below which fuses Obama's speech last night with an episode of "Chappelle's Show" from April 2004.
Comedians are debatably the most under-appreciated political and social commentators around, and Chappelle offers even more proof of that. The clip comes from a skit titled "Black Bush," in which Chappelle offers a hyperbolic and cultural twist on the presidency of George W. Bush.
Not only was it hilarious, it was a premonition.
Dave Chappelle for president? If he does end up running, he already has the perfect campaign slogan:
M-A-R-S. That's where we are going. RED ROCKS!