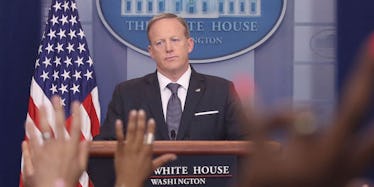 Celebs React To Sean Spicer's Resignation, Prove America Can Still Come Together
Mark Wilson/Getty Images
After announcing that he was stepping down from his role as Press Secretary in the Trump White House, nearly everyone has taken to social media to join in on the buzz about Sean Spicer's frustrating (and often hilarious) tenure as White House press secretary. And after giving us roughly six months of fantastic fodder, celebrities are reacting to Sean Spicer's resignation in all best possible ways and we're all just well... really, really happy. Buh bye, Spicey.
Colbert (of course) was one of the first celebrities to tweet the news and he nailed it in this post.
We'll miss you SO MUCH, Melissa McCarthy. Your Sean Spicer impressions were spot on. Thank you.
Poor guy... at least he got out?
Patton Oswalt, who has taken to Twitter to criticize Trump and his political team before, got it right with this musical tweet.
That would be a must-read for the world.
This might be my favorite tweet of all. Please, can this happen?
Judd didn't hold back.
Oh, Chelsea. Your Twitter game is on fleek.
'Nuff said.
Whoever made this animation, I applaud you.
Melissa McCarthy should actually replace him.
Oh, snap!
He sure is.
Oh, damn.
Although these Sean Spicer tweets are fantastic, being the White House Press Secretary for anyone — let alone a president who takes to Twitter to sound off on everything — sounds like one of the messiest jobs in America.
Can you imagine being a professional bluffer for a boss who lies about everything, from politics to his hair piece? Let's just hope we never go head-to-head with Spicey at a poker table... actually, come to think of it, maybe his next job will be in Vegas?
Now let's all sit back, relax, and watch the hilarious tweets roll in. Melissa McCarthy, where you at? Maybe tomorrow we will all feel bad for Spicey... but for now, let the glorious Trump administration bashing continue! Byyye, Spicey!