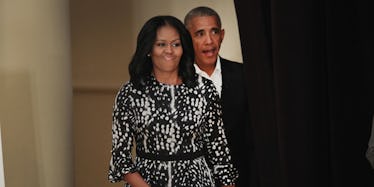 You Can Spend Halloween With The Obamas, But There's A Big Catch
Scott Olson/Getty Images
Congratulations, you have a chance to spend Halloween with former President Barack Obama and former first lady Michelle Obama. Yes, you; you and just about anyone else could be with the Obamas between Oct. 31 and Nov. 2 of this year, when a leadership summit hosted by the Obama Foundation happens in Chicago. There's just one catch: you have to apply.
The Obamas are specifically looking for people who are "active in their community, and will bring a unique perspective to share with other attendees." That's the wording used by the summit's official webpage, which contains a link for prospective applicants interested in attending the event.
The application consists of a short series of questions that probe why an applicant is interested in the summit and asks what type of contributions an applicant has made towards his or her own community.
When the actual event begins, it promises to bring together hundreds of leaders from all over for an exchange of ideas on how to fix the world's greatest problems. In a promotional video for the summit, former President Obama said,
We wanted to hear your ideas, and help you lift up good work that's going on in your communities ... And that's why this October, we're bringing together hundreds of leaders from all around the world for a hands-on exchange of ideas in my hometown, the city of Chicago. This leadership summit will be a place to gather and learn from one another, and then go back to your communities to lead others in the hard work of change.
The video can be seen below:
The Obama Foundation Summit is just one of a number of projects the former president and first lady are using to stay active after their exit from the White House. Another project is the establishment of the Obama Presidential Center in Chicago.
On Thursday, Sept. 14, leadership from the Obama Foundation will meet with the public to discuss what purpose the center will serve, the Chicago Tribune reports.
The foundation's CEO, David Simas, told the Tribune,
We're going to be focusing like a laser beam on this idea of active citizenship, to give people, organizations and communities the skills and the tools that they need to actively engage in positive change. Change doesn't happen when someone from above says this is going to happen — it's bottom up. … Everything we do is about a person saying, 'How can I move my community forward, how can I engage in positive and lasting change?'
Meanwhile, former President Obama joined the other four living presidents (Carter, H.W. Bush, Clinton, and W. Bush) for a combined effort called the One America Appeal, which aims at raising money for victims of Hurricane Harvey, which slammed the Gulf Coast.
Former President George W. Bush said of the effort,
People are hurting down here, but as one Texan put it, 'We've got more love in Texas than water.'
Obama's post-presidency activity hasn't just been limited to charitable work, however. The president has made public statements around times when a majority-Republican federal government has threatened to reverse a key policy of his presidential term.
After the House of Representatives passed a bill aimed at repealing Obamacare, for instance, Obama wrote,
It is my fervent hope, and the hope of millions, that regardless of party, courage is still possible… I hope that current members of Congress recognize it actually doesn't take a lot of courage to aid those who are already powerful, already comfortable, already influential.
Likewise, after President Donald Trump decided to rescind Deferred Action for Childhood Arrivals -- the immigration program known as DACA -- Obama responded with another timely statement, writing,
This is about young people who grew up in America – kids who study in our schools, young adults who are starting careers, patriots who pledge allegiance to our flag. These Dreamers are Americans in their hearts, in their minds, in every single way but one: on paper.
Now Obama will court another group of young people, this time during his foundation's summit in Chicago.