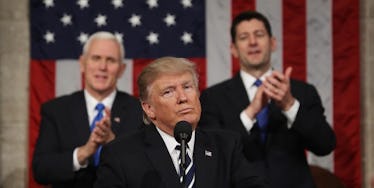 This Campaign To Send Congress A Guide On Impeachment Is The Best Kind Of Troll
Jim Lo Scalzo - Pool/Getty Images
Every time President Donald Trump does something outrageous — so, basically, every week — there's a certain segment of the internet that starts thinking longingly of impeachment. And while every so often, members of Congress get in on the action, for the most part it can sometimes seem like Congressional legislators don't quite know what to do about the calls to remove the president. Enter Barbara Radnofsky and her new book, A Citizen's Guide To Impeachment, ready to help. And by help, I mean gently troll legislators by sending members of Congress a guide to impeachment.
No, literally. As part of the book's release, publisher Melville House is allowing readers to send a copy to a member of Congress at a discounted cost, with the goal of reaching all 535 members (and all author profits are being donated to flood relief efforts after Hurricane Harvey). I spoke with Radnofsky to get her perspective on the campaign. Within barely a week of the campaign's launch, Melville House had mailed out books to every member of the Senate and started working its way through the House of Representatives. Political shade is the best shade, y'all.
The book is an effort to lay out, in a straightforward way, both what an impeachable offense actually is and what the process to remove someone from office is. While it was written for, well, everyone, once it was done, author Radnofsky couldn't help but think of a specific group that would really appreciate it.
Radnofsky, a Texas-based lawyer who in 2006 was the state's first female Democratic nominee for U.S. Senate, tells me in an interview with Elite Daily that she thought Congress could use a few copies. "I was trying to figure out based on comments and statements, which Congresspeople were very sophisticated in their understanding of impeachment," she says, "and which Congresspeople [weren't]." When she brought up the idea of sending a few copies to the Capitol, D.C.'s shadiest new book club was born.
Radnofsky says that she sees a lot of misconceptions about what impeachment really is.
"I've seen generalized comments such as, 'that's not treason so we won't be able to prove impeachment,'" she says by phone. And while she notes she can't say for sure whether members of Congress have the same not-quite-correct ideas ("I don't hang out with Congressmen," she laughs), she wouldn't be entirely surprised.
"I would think so, based on my experience with real people. Real people, very intelligent, well educated people," she says, citing lawyers and those who have studied to become citizens. "Maybe they don't."
The most common misconception Radnofsky sees? That an impeachable offense is only the high-level stuff, like bribery or treason. In fact, the only real requirement is that an officer of the government, intentionally or not, is causing harm to society. "The whole purpose of impeachment is to remove the officer from office because he's causing, or poses, great harm potential to the country," she says.
Some possible grounds? Negligence, incompetence, and incapacity, as well as the more exciting options of treason or bribery.
President Trump's recent actions entirely aside, the book is well-timed.
Dozens of Democratic members of Congress have openly discussed the question of impeachment, with some explicitly calling to remove Trump from office. For example, in mid-August, after Trump's disastrous response to a violent white supremacist rally in Charlottesville, Virginia, Wisconsin Rep. Gwen Moore posted a statement to Twitter with the hashtag #Impeach45. On Sept. 26, Rep. Al Green of Texas threatened to force a vote in the House on impeaching the president and announced he would file an impeachment resolution the following week. And that's not to mention internet darling Maxine Waters, who has been pretty darn clear about what she thinks of the president.
While at the time of the interview, Radnofsky hadn't had any response from members of Congress, she was hopeful that her book would be received well. "I'm hoping that on a bipartisan level, Congress will look at the facts of the situation we have, and start getting ready to take seriously not just the pending efforts on impeachment," she says. "[That they] will begin thinking of how they should draft, how this should be pled, what evidence should be marshaled of harm, and whether it meets the test of history."
And though the book itself is (hopefully) message enough, if she had to send a note along with it?
"I'd say, if you don't have time to read all 88 pages, just read pages 27-30 [on grounds for impeachment,]" she says. "I'm not sending any message, I think that's a little bit presumptuous. But if I did send a message, it would be, if you don't have time, just read 27-30. Because it'll give you lots of examples."
Editor's Note: An earlier version of this article stated that the publisher would be sending additional copies to members of Congress. However, readers will actually be given the chance to purchase copies for members of Congress, which would then be sent by the publisher. Elite Daily regrets the error.