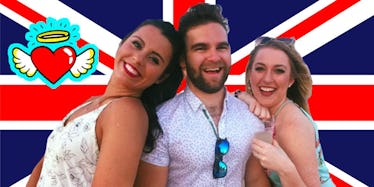 British Man Accepting Applications From American Women Who Want To Move To UK
Elite Daily
Let's be clear about this: The world is laughing at you, America.
Election Day confirmed your gun-toting, anti-abortion, Republican stereotype, and it's not looking good.
The British can't contain themselves right now. I mean, what did you expect? You guys all pointed and laughed at us when the Brexit vote came in.
We took it on the chin. Now it's your turn. That's how our crazy, messed up relationship works.
And it's out of that same screwed up friendship I offer a beacon of hope: My good friend and I are formally accepting applications from US women seeking a life in Great Britain.
What are the requirements?
Be really loud and American: Brits are, by nature, polite and prudish -- shake up our quaint little world with your obnoxious chat.
Have a passport.
Must like fish and chips and bad teeth.
Must be open to sham marriage for dual citizenship once Trump is out.
Additional holiday homes in the States aren't mandatory, but candidates with them will be looked upon favorably.
But I'm concerned about Brexit. What does it mean for me?
Don't be. We're not officially breaking away from the rest of Europe for a couple of years.
Our prime minister needs to invoke an agreement called Article 50 of the Lisbon Treaty to kick things off and she's not doing that until March 2017.
Until then, we can enjoy easy access to Europe (I'm talking long weekends in Paris -- you know, the stuff of dreams).
And after we're cut off from our neighbors, just think of the UK as a romantic little island where we can live out our final days sipping tea and taking the kids on countryside picnics.
Meet Benjamin "Baaj" Hepworth
My friend is a born and bred Yorkshire man now residing in London. Think James Bond, but more mysterious. He's a former banker and c0-owner of swimwear brand Bowler and Beach.
Of the prospective candidates, he said,
I'm not asking for much from an American woman: intelligence, model good looks, a holiday home in the Hamptons and a ski chalet in Aspen and -- most importantly -- an appreciation of a dry English sense of humor. Please form an orderly queue.
Applications are reviewed on a first-come, first-serve basis.
Successful candidates will progress to the interview stage: a paid trip back to the UK in December to meet the family over Christmas dinner.
Good luck, and we look forward to hearing from you in the future.