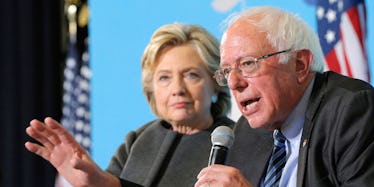 Bernie Sanders Praises Trump's 'Strong Political Instincts' In Shocking Speech
REUTERS
After over a year of campaigning against him, Bernie Sanders actually had some words of praise for Donald Trump.
The Vermont senator spoke at a town hall hosted by CNN on January 9.
During the event, Sanders was asked what he would say is the president-elect's strongest attribute. He did manage to come up with a positive answer.
He said Trump "did something extraordinary."
Sanders explained,
Trump took on the Republican establishment, he took on the Democratic establishment, took on the media establishment and he ended up winning the election to become president of the United States. And that is an extraordinary accomplishment. And it talks about perseverance, it talks about very strong political instincts, it talks about a way to connect with people.
All of this, indeed, happened throughout the presidential election.
It was a good way for Sanders to find some praise for a man who is hard to praise. This is especially true, given Sanders's history with Trump, which has been antagonistic.
This is not the first time a Democrat has been specifically asked to say something nice about Trump.
Probably because of the brutal and mean nature of the election, questions moving for amicability popped up repeatedly during the election.
During the second presidential debate between Trump and Hillary Clinton, the nominees were asked to name one positive thing about each other.
Clinton praised Trump's children. Trump praised Clinton's determination. It was all very awkwardly friendly.
Throughout the rest of the town hall, Sanders was not quite as praiseworthy of Trump.
At one point, he called him a "pathological liar" and acknowledged many people are afraid of what will happen to rights and freedoms under a Trump presidency.
Ultimately, however, Sanders said that he would not be working to completely obstruct Trump in his presidency.
Sanders said,
I think where Trump has ideas that make sense that we can work with him on, I think we should.
This mindset is a much more generous one than the Republicans in Congress had for President Barack Obama.
Citations: Most memorable lines from CNN's Bernie Sanders town hall (CNN), Sanders urges Dems to challenge -- but not obstruct -- Trump (CNN), Bernie Sanders heaps praise on Donald Trump (New York Post)