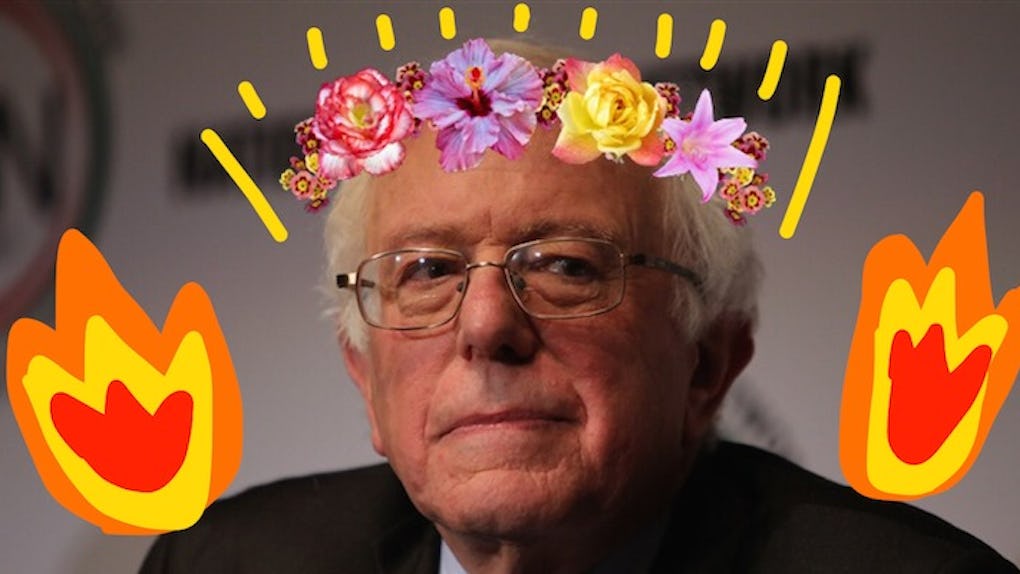 Celine Rahman
Bernie Sanders Will Look Incredible In A Flower Crown At His Own Coachella
Coachella is about to combine music and politics in a big way. The California city plans to hold a block party for Democratic presidential candidate Senator Bernie Sanders on April 21 and 22 -- smack dab in the middle of the famous music festival that occurs there every year.
The free event is affectionately dubbed "Berniechella," and up to 3,000 people are expected to attend. Judging by the incredible showing at Bernie's recent rally in Washington Square Park in New York City, the crowd could potentially be even larger than anticipated.
Event organizer Tizoc DeAztlan is very excited about the rally. He reportedly said,
It's a party of people who are in support of a particular candidate.
Several musical acts are scheduled to perform, including DJs Shepard Fairey and Zoë Kravitz, as well as Moses Sumney, Ozomatli, Alex Ebert (frontman of Edward Sharpe and the Magnetic Zeros) and Venus and The Moon, The Desert Sun reports.
There will also be food and beer (as there should be).
It seems Coachella is definitely feeling the Bern.
Sanders has reportedly not yet said whether or not he'll attend the event, but if he does, he'll have to go back to his hippie roots and wear a flower crown.
Do it for America, Bernie.