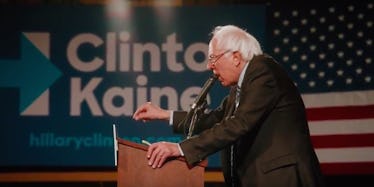 Bernie Sanders Gets Emotional On Why Hillary Is The Best Choice For Our Planet
Y
On Thursday, 350 Action shared an exclusive video with Elite Daily featuring Senator Bernie Sanders, in which he speaks about the importance of addressing climate change and makes a powerful case for Hillary Clinton.
In the video, Sanders states,
This is an enormously important election and the choices are very clear. You may not agree with everything Hillary Clinton stands for, but on every important issue...her views are far, far better than Donald Trump's... That's true on economic issues, that's true on healthcare issues -- it is especially true on environmental issues and on issues dealing with climate change.
It's not exactly a secret the primary season was very contentious, and Sanders certainly disagreed with Hillary Clinton on a number of issues -- including climate change.
But, as Sanders notes in the video, Donald Trump won't even acknowledge climate change is real.
The Republican presidential nominee has frequently characterized climate change as a hoax, and his economic plans could have a devastating impact on the environment.
As 350 Action Executive Director May Boeve put it in a statement released with the video,
As Bernie Sanders said, in this election the choices are very clear. We need to vote for Hillary Clinton so we can defeat Donald Trump... Hillary Clinton isn't where she needs to be on climate policy -- she still supports fracking and natural gas, and she hasn't spoken out on the destructive Dakota Access Pipeline. But she has a proposal to address climate change, and we've pushed her toward bolder policies in the past. Once she's elected, we'll redouble our efforts. On the other hand, Donald Trump thinks climate change is a hoax and would reverse many critical decisions in our fight, like the Paris Climate Accords and the Keystone XL Pipeline.
In short, while you might not like everything about Hillary Clinton, progress is still possible with her on many fronts -- especially climate change.
The alternative is Donald Trump, with his habitually offensive rhetoric and blatant disregard for the facts.
This is a man who is actively undermining the democratic process in the US, and childishly stating he will only accept the outcome of the election if he wins.
Regardless of how Trump feels about it, climate change is real, it's happening and it's a product of human activities -- the scientific community has made this very clear.
Not to mention, 2015 was the hottest year on record and we just lived through the hottest summer in history (it wasn't just you, it really was that hot).
Hillary Clinton accepts this and -- while her approach to climate change has room for improvement -- that's the first step to addressing the problem.
Meanwhile, Trump thinks cold weather is proof climate change isn't happening.
The only time Trump exhibited any level of concern for climate change was when it impacted one of his businesses, which is emblematic of his utter selfishness and disregard for the well-being of the planet.
This election is bigger than any one of us.
As Bernie Sanders argued in the video, it's about the "future of the planet" and making America the nation "we know it can be."
Trump presents a danger not only to our fundamental values, but also to our potential to grow and improve.
It is absolutely imperative that Donald Trump not become the next President of the United States.
Climate change poses a threat to every single one of us, as it's linked to rising sea levels and extreme weather events, in addition to other potential dangers to human health and safety.
As the Pentagon described it, climate change is an "urgent and growing threat to our national security" as it contributes to "increased natural disasters, refugee flows and conflicts over basic resources such as food and water."
There are also many reasons to be concerned about climate change from a financial or economic standpoint  -- especially for Millennials.
We can't ignore this. The time to address climate change is now.
In Bernie Sander's words,
We are at a critical point in the fight against climate change -- more floods, more extreme weather disturbances, more rising sea levels... Now, if you think that is not important, if you think you can sit this one out -- that's fine. But I've got seven grandchildren, I've got four kids. I worry about the future of this planet. I'm not sitting it out, and I hope that my fellow Americans will not sit it out.
The election is in less than two weeks. Don't sit it out.
Carry the movement forward. Protect the planet. VOTE.
Citations: New York Times, USA Today, Vox, ThinkProgress