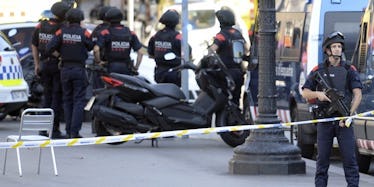 A Barcelona Van Crash Has Left Twitter And The World So, So Devastated
JOSEP LAGO/AFP/Getty Images
A white van has plowed into a crowd of pedestrians on popular tourist street Las Ramblas in Barcelona. Media reports and tweets about the Barcelona van crash indicate that the situation is ongoing. According to early reports on the BBC, "Witnesses said the van had deliberately targeted people before coming to a stop."
Catalonian officials have reported that at least one is dead and dozens of others injured; numerous media outlets are reporting at least 13 are dead, and many more are injured, according to early reports. The devastating events are still unfolding as Barcelona police search for the suspect, who reportedly fled on foot.
While the story is unfolding, there will most likely be false reports and confusion, but we can confirm that Catalonian officials are, as of now, considering the matter a terrorist attack. (The tweet, in Catalan, reads, "A terrorist attack is confirmed. The protocol for terrorist attacks has been activated.")
Las Ramblas (or La Rambla, depending on who you're talking to) is a famous shopping boulevard that terminates at Plaça de Catalunya, Barcelona's busiest square. The area is known for its heavy tourist traffic, and it is one of Spain's most famous destinations.
Many have taken to Twitter to express their devastation at yet another car-based terrorist attack, only days after one was killed in Charlottesville, Virginia, and one was killed in Paris, France in similar attacks.
The messages of distress, grief, and condolences to victims and those in Barcelona are heart-wrenching.
The Mayor of London has already commented on the attack. President Donald Trump, however, has been silent on the matter, instead tweeting about preserving the beauty of Confederate monuments.
An American basketball team from Grand Canyon University, is currently in Barcelona, but they tweeted to let everyone know that they're safe.
FC Barcelona, the wildly popular football club, commented as well.
Louisiana republican House Rep. Steve Scalise, who was shot during an early morning congressional baseball practice only months ago, expressed grief upon learning about the attack.
He's right.