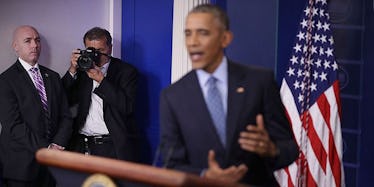 Barack Obama's Photographer Trolls The GOP With Nostalgic Instagram Post
Getty Images
A former Obama White House photographer sent a clear message on Thursday.
On the same day Republicans took a big step in their efforts to repeal Obamacare (and wasted no time celebrating), Pete Souza posted a photo that showed what President Obama did after Congress passed the Affordable Care Act.
Souza wrote on Instagram,
The President was reading text messages on his Blackberry while waiting to make thank you calls. Someone had sent a message that ended with "your mother would be so proud." (His mother had died from ovarian cancer. She had spent her last days worrying whether insurance was going to cover some of the medical expenses because they might consider her cancer a pre-existing condition.)
Souza set up an obvious contrast to President Trump's reaction to the House of Representatives passing the American Health Care Act (AHCA).
On Thursday afternoon, Trump invited House Republicans to the Rose Garden for a celebratory press conference, despite the fact that the AHCA must successfully go through the Senate before having a shot as being confirmed as law.
Senate Republicans have already indicated that they will not pass the bill that House Republicans passed. Instead, 13 GOP politicians will now take the lead in writing a new bill, according to Bloomberg's Sahil Kapur.
Of course, Souza's post could have been a matter of coincidence. As The Hill noted, though, Thursday wouldn't be the first time that the former White House photographer used his Instagram account to a photo of Obama, seemingly to react to an action done by the Trump administration.
Last month, after the Trump White House decided to no longer make its voter logs public, Souza posted this photo.
Given that publicizing voter logs was a practice that President Obama started, it's pretty clear that Souza has a knack for trolly #TBT post.
Citations: Obama WH photographer mocks Trump for keeping visitor logs secret (The Hill)