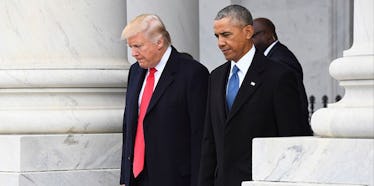 Barack Obama Only Needs One Word To Describe How He Feels About Trump
Getty Images
Former President Barack Obama is apparently not a huge fan of President Donald Trump.
In fact, Obama thinks he's a "bullshitter."
This shouldn't come as much of a surprise, given Trump spent years pushing a racist conspiracy theory that suggested Obama wasn't born in the US.
During the US presidential campaign, Trump referred to Obama as "the founder of ISIS."
To top it all off, Trump also recently claimed Obama wiretapped him (on Twitter, of course), without any evidence whatsoever.
For these reasons and more, you can hardly blame the former president for not singing Trump's praises.
In November, Obama reportedly told two friends he thinks Trump is "nothing but a bullshitter," People reports.
One friend of the former president also told People that Obama's opinion of Trump hasn't "gotten any better" in recent months.
A third source close to Obama added,
He's deeply concerned with what he's seen. But he's also optimistic and heartened that citizens aren't just watching it happen but engaging with neighbors and elected representatives at town halls.
Like many in the US, it seems the former president is quite disconcerted by the chaos emanating from the Trump administration.
Obama has been fairly quiet since he left the White House, with only a few public appearances.
Former Obama adviser David Axelrod told People, "[Obama is] very respectful of the appropriate role of a former president and that ex-presidents should not be looking over the shoulder of their successors and commenting on every decision."
While Barack Obama is not necessarily commenting on every decision Trump, his wife, former First Lady Michelle Obama, recently ripped into the president on the topic of school lunches, which she focused heavily on while in the White House.
The Obamas might not always speak out against Trump, but it's pretty clear they're not pleased by what they've seen from him as president so far.
They're hardly alone, as Trump's approval rating is at 42 percent.
Citations: What Does Barack Obama Really Think of Donald Trump? 'He's Nothing But a Bullsh–ter' (People)