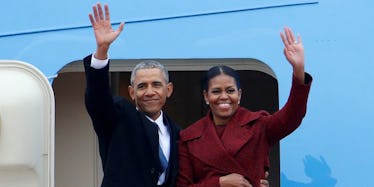 Barack And Michelle Obama Look So Relaxed In 1st Pic Since Leaving White House
REUTERS
Barack and Michelle Obama said they planned to hit maximum chill once they left the White House -- and they've made good on that promise.
The couple took no time in boarding a private jet to the British Virgin Islands in the Caribbean.
P.S. IT'S NOT TOO LATE TO COME BACK, JUST SAYING. *weeps gently into pillow*
The first photo of them outside of official duties is circulating on social media.
It shows Barack and Michelle posing with police and staff at Terrance B. Lettsome International Airport -- and they couldn't look happier.
It's no wonder why. They just had front row seats to the most bizarre show on Earth (or hell) at the inauguration.
Shortly after the photo was taken, they were bundled into a convoy and taken to a boat. From there, they'll go to Necker Island.
The resort is real off-the-grid. It's owned by eccentric British billionaire Richard Branson (who owns Virgin, among many, many other things).
Imagine their lives right now. They've gone from this:
To this:
Let me repeat that. It needs to sink in. They've gone from this mess:
To extreme, unequivocal beauty:
To be fair, Michelle looked like she'd checked out a long time ago.
It must have been the longest notice period in the history of work, but they both wore their brave faces until the very end.
TAKE US WITH YOU.
The couple recently posted an official video about what they plan to get up to after a life of politics.
Firstly, they swore to take a mega vacation which, we can all agree, is massively deserved.
Secondly, when they come back they're going to campaign for causes close to their heart.
Barack has already promised to jump back into politics if things are getting tasty up in the big house.
P.P.S. SERIOUSLY, IT'S NOT TOO LATE TO COME BACK TO LOOK AFTER AMERICA AGAIN IF YOU WANT.
Citations: Next stop, Necker Island: Barack and Michelle Obama are all smiles as they arrive in the British Virgin Islands on Richard Branson's private jet and head straight for his lavish private island retreat (DailyMail.com)