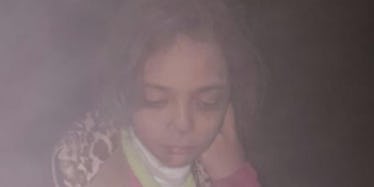 Syrian Girl Who Live-Tweets Bombings Posts Tragic Pic After Home's Destroyed
Twitter
For about two months, 7-year-old Bana Alabed and her mother Fatemah have offered the world a devastating glimpse into the horrors of war-torn Aleppo via Twitter.
Tragically, Bana and her family are now homeless because of the ongoing war in their county, which is the case for far too many Syrians.
On Sunday, November 27, Bana tweeted that her house was destroyed and she "almost died," along with a heartbreaking image of a dust-covered and bewildered Bana.
This tweet came not long after Fatemah sent her "last message" while the neighborhood experienced "heavy bombardments."
On Saturday, November 26, Bana tweeted images of the aftermath of bombings in her neighborhood, showing how close they were to her family's home.
According to a tweet on Monday, November 28, the family is now on the run and struggling to survive.
Bana's account has captured the hearts of people across the globe — including JK Rowling.
Rowling recently sent an e-book to Bana after Fatemah told the author her daughter would like to read the "Harry Potter" series.
Fatemah said Bana liked to read to "forget about the war."
But it now appears Bana won't have much time for reading, as her family is fighting to stay alive.
Sadly, the situation this young girl finds herself in is not unique. The UN recently reported that approximately 500,000 children are trapped in besieged cities across Syria, according to the New York Times.
Meanwhile, the war in Syria has contributed to the worst refugee crisis of our era. There are approximately 21.3 million refugees worldwide, and around 4.8 million are Syrian.
This war has hit Aleppo particularly hard; children have frequently been among the victims of bombings conducted by the Syrian military (loyal to President Bashar al-Assad) and its Russian allies.
At the moment, Bana and her family thankfully appear to be alive. But they're in a dire situation, and it's hard to feel confident about their ultimate survival.
This war has already displaced around 11 million people and claimed hundreds of thousands of lives.
Citations: Reuters, CNN, UNHCR.org, UNHCR.org, New York Times, BBC