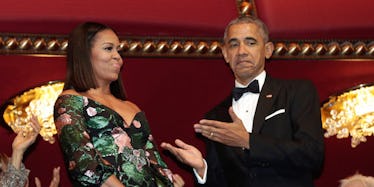 Awkward Wedding Pics Of Obama As Groomsman Prove He's The Ultimate Dad
REUTERS
President Barack Obama served a different kind of duty to the people on Saturday.
Obama served in that vital role of groomsman.
He was there at the wedding of Marvin Nicholson, who has been his buddy, golf partner and aide for a long while.
Nicholson married Helen Pajcic, chief of staff in the Office of Planning, Evaluation and Policy Development for the US Department of Education.
The couple had their wedding at a private home in Jacksonville, Florida. Obama seemed pleased to be heading out to celebrate his friend's love, as evidenced by the big smile on his face as he was traveling to Jacksonville:
After getting to Jacksonville, Obama joined Nicholson's wedding party as a groomsman.
Secretary of State John Kerry was also in attendance — and, in fact, was the one to officiate the wedding.
Pictures show Kerry officiating as Obama looks on proudly from the wedding party lineup.
One can only assume that Obama acted goofy around the little boy (presumably the ring bearer) who stood in front of him, given Obama's history of acting adorably in front of children.
Obama looks like a proud father with his head lifted high watching his friend make his vows. In 2014, Obama said about Nicholson,
When I'm with Marvin, we can talk the same way we would if we were just a couple of guys having a beer and whacking a ball around.
Obama and Kerry gamely posed for wedding party pictures, as reported by Politico.
Obama also took the time to pose for a photo with the bride and groom in front of a Kardashian-worth flower wall.
It seems like a classic Obama dad moment with a big smile on his face and his hands awkwardly folded in front of him. It almost looks like he just thought of a perfect corny joke to make once the camera flashed.
Politico added,
The band played until midnight and the after party went into the wee hours.
So you can bet that Obama broke it down on the dance floor.
Citations: New York Times, New York magazine, Politico