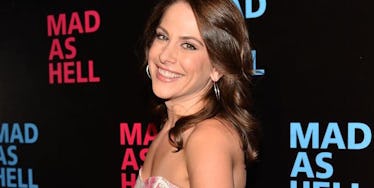 Meet The Woman Breaking The Rules To Give Us The News We Need To Hear
Getty Images
Ana Kasparian was only supposed to be working with The Young Turks for two weeks, filling in for someone on vacation.
Last Friday -- years after those two weeks ended -- Kasparian was helping the show celebrate its 10th anniversary with a live, 10-hour streaming.
TYT is an online news show, broadcasted on YouTube, that features Kasparian, along with main host and cofounder Cenk Uygur, explaining and discussing the news.
Kasparian's two-week stint was back in 2007 when she graduated from journalism school and was interning at CBS Radio.
She was disillusioned with CBS, she told Elite Daily. She wanted a place outside of traditional media that would use her potential to its fullest.
Kasparian was inspired by TYT:
I was there for a day before I realized I wasn't going to go anywhere.
As she shows everyday on the show, Kasparian is not one to stay quiet when she's passionate about something. So after her two weeks ended, she told Uygur she wanted to be involved with the show. They created a position for her.
She was still working at CBS, but as her position grew at TYT, she was urged to quit her job at CBS. This was a risk -- to leave the established media to try something completely new -- but it was one Kasparian was willing to make.
What I wanted more than anything was to feel fulfilled with what I was doing in the media.
Now, Kasparian can be found hosting her own hour of TYT, speaking out on topics like foreign policy, Black Lives Matter and reproductive rights. Kasparian said:
We take these complex political issues and we don't minimize them, but we simplify them in a digestible way, so even if you have no background in politics you can watch our videos. We will clearly outline what's happening, why these stories are important, and we'll analyze those stories.
Kasparian works to have a conversation with her audience, who she says are smart and "really, really good at being bullsh*t detectors" -- one of the reasons she insists on being so honest onscreen.
So she speaks openly with viewers, giving her opinion with research to back it up.
TYT challenges its audience to question certain established ideas.
They initially got some flack for criticizing President Barack Obama for failing to address healthcare and racial equality when he got to office -- people said as a progressive show, they should support Obama regardless.
TYT also faced criticism at first for their coverage of police brutality from people who believed they were reporting anecdotal, rather than systemic, problems.
Eventually, though, as TYT continued reporting on these issues, the audience came around to understand the work. Kasparian said:
If you're bold enough to question something that's been long established … as long as you stay true to that message and you are consistent, the audience will evolve.
With the presidential election going on, Kasparian has seen Millennials care more about the economy, as our generation got the brunt of the recession and is facing student debt, high unemployment rates and stagnant wages.
That's probably why young people support Bernie Sanders so much, Kasparian said. Sanders appeals to our daily economic worries in a way other candidates, including Hillary Clinton, do not.
Kasparian hopes as the election goes on, Generation-Y pays more attention to foreign policy and money in politics, as well.
By using our votes, we can change how certain issues are handled, including drone strikes and campaign financing.
Although Kasparian is clearly knowledgeable and speaks proudly, she had to overcome some obstacles as a public woman in media.
She explained as a woman, people perceive her as emotional and overdramatic when she's being passionate, or otherwise simply write her off as unintelligent and mindless.
When Kasparian began hosting at TYT, she would deliver her opinion in an overly calm, rational way so people wouldn't think she was just being "dramatic." But over time, she realized not speaking passionately was holding her back -- and keeping her from being completely honest with her audience.
With TYT's 10th anniversary, Kasparian has seen her risk pay off with continued success and, ultimately, fulfillment. Her advice to young people is not to be afraid of taking their own risks and not following the traditional rules. She said:
If you live your life playing by the rules and doing what the established public figures tell you what to do, you're the least likely to succeed … If I had followed the directions or the advice of people that were older than me when I was in school, I wouldn't be where I am today.