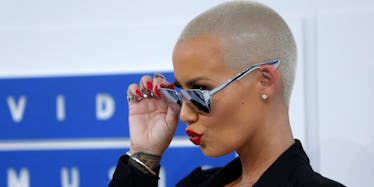 Amber Rose Reveals Why Donald Trump's Sexist Comments 'Make Her Happy'
REUTERS
Amber Rose sees the double standards in play when Donald Trump makes slut-shaming comments, and she won't let them slide.
She told Elite Daily,
I'm sure Donald Trump has had his fair share of sex and tapes. Just because he's a man, he doesn't get away with it.
Not only does she not want him to get away with that, but she definitely doesn't want you to sit at home on election day. She joined the Hip Hop Caucus in its Respect My Vote! campaign to encourage more people to vote.
The annual SlutWalk, run by the Amber Rose Foundation with the goal of empowering women, took place in Los Angeles over the weekend. Respect My Vote! was there to get people to register to vote.
Rose told Elite Daily she loves the work Respect My Vote! is doing to give people a platform, which is why she decided to work with them.
And she wants people to be empowered by voting -- especially women. She said,
A lot of women feel like their opinion doesn't matter and they don't have a voice and they always get shut down all the time. Especially with a female running for president -- we actually do have a voice, and we can make a change.
Respect My Vote! is non-partisan, so it doesn't say you should vote for any one particular candidate. Rose, however, is planning to vote for Hillary Clinton. She explained,
Hillary's just a strong woman. I've watched her go through trials and tribulations; people have tried to get her down. She's human -- I'm sure she's made mistakes just like everyone else.
But as Rose sees it, Hillary's human mistakes pale in comparison to Trump's behavior. She told Elite Daily,
Trump is a sexist bigot. Not that he's not smart -- he's a smart guy in a lot of ways -- he's just an idiot in a lot of ways. He's a slut-shamer, he's old-fashioned. He's not anything we need here in America. I just feel like Hillary just gets it, and that's why I'm voting for her.
Rose said watching Trump's rampant sexism take center stage over this past year has actually made her kind of happy.
As she sees it, the more he makes these sexist remarks, the easier he makes it for Clinton to win the election in November.
While she can "absolutely" respect someone with different political views than herself -- and she's sure she has friends who do have different views --  she definitely wouldn't date someone who opposes hers in the age of Trump.
I could never lay with someone that would vote for Donald Trump. We'd just have nothing in common.
She explained,
I'm such an advocate for women that I just couldn't probably even be around them, to be honest with you.
Trump's latest slut-shaming victim is former Miss Universe Alicia Machado, who appeared in Playboy and once had sex on a reality TV show. Trump called her "disgusting" for having a sex tape.
Rose, who has always preached empowerment for women, thinks Machado and other women slut-shamed by Trump shouldn't let it take them down.
Don't sit home and cry about it. Embrace it. We're all sexual beings. We all have sex, we all have needs.
She said,
We also have phones and videos in the palms of our hands that we can use to take sexy pictures and take videos while we're having sex. It's OK. No one should ever feel ashamed about that.
Rose told Elite Daily this is why she calls herself a "slut" and started her SlutWalk in the first place, saying,
It is a derogatory word, but I take it back, and I take the pain away because I literally do any and every thing that I want, and I will never let anyone put me down and judge me for it.
One thing Rose will do: use her voice by voting -- and you should, too.
Elite Daily and 50 other media organizations partnered with Rock The Vote to register 100,000 women to vote. You can register right here (and men can use it too) :