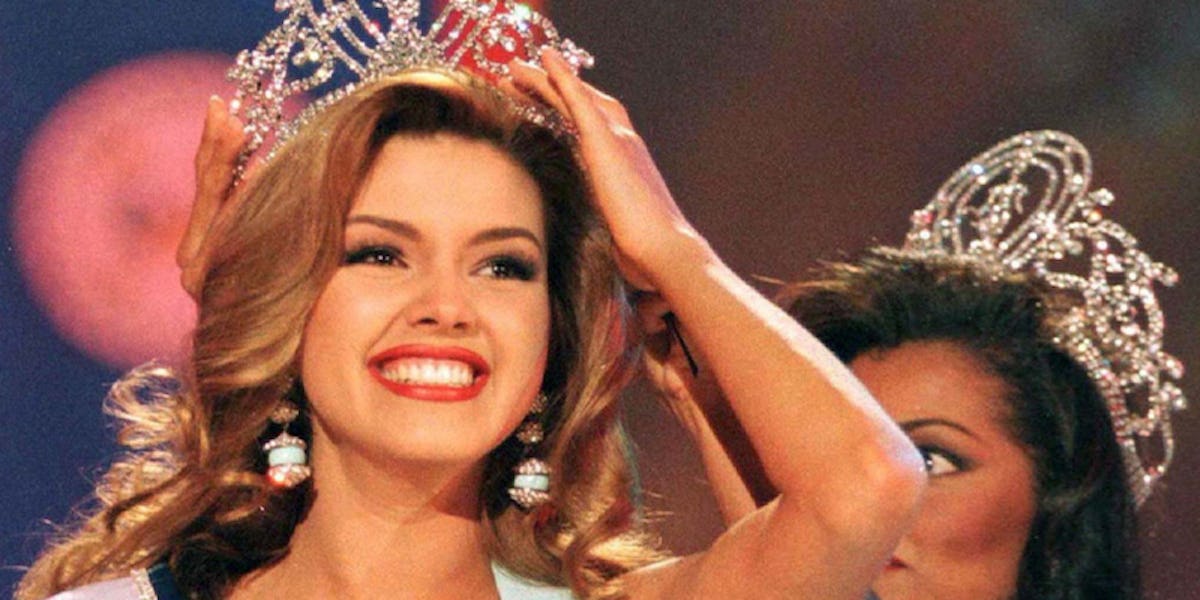 This Playboy Shoot Is Why Trump Thinks Former Miss Universe Is A Porn Star
REUTERS
Republican presidential nominee Donald Trump may have made history on Twitter early Friday morning. This may be the first time ever that a major party presidential nominee has asked the public to watch a sex tape.
Trump went on a post-midnight Twitter rant early Friday morning all about Alicia Machado. Machado is a former Miss Universe from 1996, which is the year Trump first owned the competition.
At the presidential debate on Monday night, Hillary Clinton brought her up. Clinton said that Trump took to calling Machado "Miss Piggy" and "Miss Housekeeping" – Machado is Venezuelan; Trump is racist – after she gained some weight following the 1996 competition.
Rather than doing the polite, more strategic thing -- given that Trump is trying to win over female voters -- and just apologizing and moving on, Trump has been digging deeper and deeper into the Miss Universe case.
Immediately following the debate, he did not apologize for fat-shaming Machado. Instead, he said that her weight gain was "a real problem."
Oh, but don't worry: Trump didn't stop there.
Early Friday morning, he began tweeting about Machado:
And then, Trump went in for what he probably thought was the kill.
Please join me in dissecting these tweets.
Trump, the Trump campaign and conservative media have been trying to paint Machado as a porn star.
There have, in fact, been some porn clips recently going around with Machado's name on them. Asawin Suebsaeng at the Daily Beast did some serious investigative journalism – he watched porn – and determined the following:
[T]here does not appear to be any evidence suggesting the existence of professionally made pornography starring Machado. Hoax-debunking website Snopes determined that some of the hardcore clips circulating online this week under Machado's name are in fact from the 2004 feature 'Apprentass 4,' starring Angel Dark. The Daily Beast reviewed the pornographic videos (for journalism!) posted under her name, and didn't see much resemblance to the former beauty queen and current Trump foe.
Trump and conservative media have been saying that Machado has a "sex tape." She did, in fact, have sex that was caught on camera while she was participating in a reality TV show.
It comes down to semantics, really, if you want to call that a "sex tape."
Trump himself has appeared on a reality TV show... in case you forgot. During an episode of "Celebrity Apprentice," Trump said to a female contestant,
Must be a pretty picture, you dropping to your knees.
Cool!
Trump and the conservatives (new band name?) may also have been referring to Machado's appearance in Playboy. She posed for the magazine in 2006:
Trump, too, has posed for Playboy:
Trump may have also been just generally referring to Machado posing nude, as she did in the Playboy shoot.
Trump's third and current wife, Melania, has also posed nude for a magazine. In this case, that magazine is GQ:
Melania also posed nude in the mid '90s. In response to those photos surfacing, Donald said,
Melania was one of the most successful models and she did many photo shoots, including for covers and major magazines. This was a picture taken for a European magazine prior to my knowing Melania. In Europe, pictures like this are very fashionable and common.
So to clear things up, it's "very fashionable" when Trump's wife does it, but "disgusting" if any other woman does it.
Trump apparently finds it "disgusting" that a woman has a sex life. I find that a "double standard," and I consider THAT disgusting.
We shouldn't fault Melania for posing nude, just as we shouldn't fault Machado.
Trump has spent decades bragging about his sex life. But if a woman who is not his wife displays any form of sexuality, it's apparently a bad mark on her character.
Hypocritical much?
Citations: The Daily Beast, Daily Mail, GQ, Us Magazine