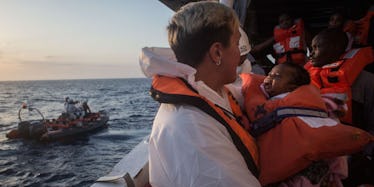 5 Ways You Can Support Refugees Every Day, In Honor Of UN World Refugee Day
Chris McGrath/Getty Images
The United Nations recognizes June 20 as World Refugee Day, but you can support refugees in your everyday life — in ways both big and small.
Although media coverage of it may have slowed, there is still very much a refugee crisis going on around the world, which affects many countries.
Over 71,000 migrants and refugees arrived in Europe by sea from the beginning of the year to May 31, according to the International Organization for Migration (IOM). This number is only expected to rise as warm weather makes the passage somewhat easier. In that time period, 1,650 people died, according to the IOM.
Meanwhile, the political climate is making refugees' lives even more complicated. President Donald Trump campaigned on anti-refugee rhetoric and issued a "ban" on Syrian refugees, and other politicians around the world have echoed that fearful opinion.
But if you support refugees, many whom have fled their homes from violence and disasters, there are ways that you can help them.
I spoke with Lizzy Foydel, policy counsel of the International Refugee Assistance Project (IRAP), about ways to support refugees.
1. If you've got five minutes, call your representatives.
It's "not the most glamorous thing in the world," Foydel says, but calling your representatives is "really, really critical."
This is true if your representative is against helping refugees and if she or he is already in support of refugees.
If she or he doesn't support refugees, your call could help sway their opinion. And if she or he does support refugees, those calls bolster stances.
"It's really powerful for a senator or representative to be able to say, 'I got 10,000 calls from constituents who are saying they want us to welcome refugees in this country,'" Foydel says.
If you don't know how to call your representative, the Stand With Refugees campaign can help.
2. If you've got a few hours a week, volunteer.
There are refugees already all around the United States trying to settle in to this country. Three million refugees have been resettled in America since the Refugee Act of 1980 was signed, according to Pew Research. About 85,000 people were admitted during the last fiscal year under President Barack Obama, Pew reports.
Resettlement agencies are always looking for volunteers, Foydel says. This ranges from everything from language training to handling logistics to just being some company. Find a local agency and see if there's anything you can do.
If you need help finding an agency near you, try checking here for the Office of Refugee Resettlement.
3. If you've got no time but some extra cash, donate.
There are loads of organizations supporting refugees that you could monetarily support. Bigger organizations include the International Rescue Committee (IRC), Oxfam America, and -- of course -- IRAP.
Charity Navigator also has a helpful list of refugee-supporting organizations that they rate highly.
These organizations include those working directly with refugees and those advocating and lobbying for rights. All of this costs money.
Meanwhile, some organizations are looking for donations of clothing and other supplies. Some IRC offices in the U.S., for instance, seek clothing, household goods, and children's items. The U.S. Committee for Refugees and Immigrants also seeks these items at local offices.
You can check with local agencies to see what's in need around you.
4. If you've got friends and neighbors, change their opinions.
All you've gotta do is talk to people you know and explain to them why you think refugees are people who deserve a chance at a peaceful life.
When people hear that attitude from people they're familiar with, "that's really powerful," Foydel says. Those conversations can change minds better than news stories and essays.
This is vital if you live in a community where refugees are being settled. You can help to make sure they are fully welcome.
Meanwhile, it can lead to an even bigger change.
"Being able to change attitudes within your own social sphere is really important. We get change to happen because we're able to get that critical mass of people who are on board with a particular policy or attitude," Foydel says.
These conversations can be difficult, and you may not be able to change everybody's minds. Be respectful in these talks -- and knowing the stats and information always helps -- but people are stubborn, so acknowledge it might not always end the way you want it.
But that doesn't mean you should stop speaking up and spreading awareness. Change often happens slowly. Have patience with it.
5. If you've got no time, no money, no friends, but a lot of passion, then pay attention to the news.
If the least you can do is know what's going on, that's still something.
It was people's awareness of the news that led to the inspiring protests at airports around the country after Trump signed his (now-blocked) executive order against refugees. Awareness leads to mobilization, which can lead to change.
There's always something you can do.