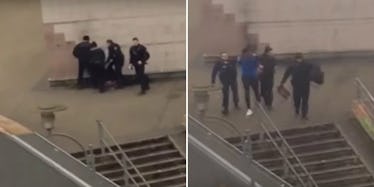 Police Officer Caught Raping Man With Baton During Arrest In Disturbing Video
Youtube
Rioting and protests have broken out after a French policeman was accused of sexually assaulting a black youth worker with a baton.
The victim is a 22-year-old man identified as "Theo."
After Theo's arrest on Thursday in the "3000 estate" in Aulnay-sous-Bois, a northeast suburb of Paris, one of the four officers involved in the disgusting crime has been charged with rape.
A video of the assault, shot by an amateur at what appears to be a higher vantage point, was posted online.
The footage of the rape has been edited out, but the man was allegedly penetrated in his anal passage by a telescopic baton.
Tear gas was also used on the man when he attempted to resist arrest.
The three other officers involved have been charged with "deliberate violence," and they all will face trail.
Theo's injuries were so bad that he required surgery. He remains traumatized and with a "severe wound" in the hospital.
Police say the alleged rape was an accident -- claiming Theo's tracksuit pants fell down and the baton penetrated him.
Police brought him to the station, noticed his injuries and then called paramedics.
Since Thursday, rioters have taken to the streets on the 3000, which is named for the number of people who live there, while police try to maintain order.
A local police source said,
Gangs of youths have been attacking us, and setting property on fire every night. The fear is that this violence will escalate.
At one point during the weekend, all of the street lights went out in the 3000 due to vandalism. Graffiti has also appeared on buildings calling the police rapists.
Stephane Troussel, the Socialist politician who is in charge of the Seine-Saint-Denis region where the crime took place, said,
Although thousands of police are doing their work properly... too many arrests end in nightmares for some young people. The image of the Republic is being tarnished. We have to urgently find a solution.
Citations: Policeman is charged with rape after footage emerges showing a black youth being arrested by four officers and 'sexually assaulted with a truncheon' in a Paris suburb (DailyMail.com)