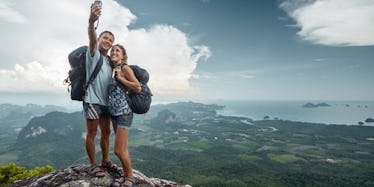 More Deaths Have Been Caused By Selfies Than Shark Attacks This Year
Shutterstock
In this modern day and age, death by selfie claims more lives annually than shark attacks do.
Seriously.
According to new reports, 2015, thus far, has seen more selfie-related deaths -- slips, falls, mindless accidents -- than lethal shark attacks.
There were at least 12 confirmed of the former and just eight of the latter.
Most selfie-related deaths are results of stupidity, like trying to take a dangerous, gravity-defying snap or a picture with a bear.
Most recently was the death of a 66-year-old Japanese tourist who fell down the stairs while trying to take a selfie at the Taj Mahal.
The Russian Interior Ministry was seeing so many reports of selfie related deaths, it released a pamphlet this past July educating readers on safe selfie-snapping procedures.
Honestly, dying because of an accident while trying to take a picture — of yourself — is among the stupidest ways to die.
Kids, be safe and put your damn phones away.
Citations: More people have died from selfies than shark attacks this year (Mashable), Death by selfie? Russian police release brochure after spate of fatal accidents (CNN)