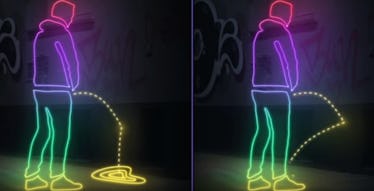 Splash-Back Paint That Trolls People Who Drunkenly Pee Outside Comes To US
YouTube
Pee-repellent paint is real, FYI.
It's a coating of magical liquid that hardens and literally sprays your own urine right back at you if you relieve yourself on it.
The paint was first tested on the streets of Hamburg in Germany, then San Francisco -- and it's had so much success officials are planning to coat Philadelphia in it as well.
Southeastern Pennsylvania Transportation Authority (SEPTA) will roll out the anti-pee paint in its subways to stop people from drunkenly dousing their stations in piss.
Yep, turns out a $300 fine wasn't enough to stop us.
We won't bore you with the science behind the paint, so here's a video to show you how it works:
SEPTA spokesman Andrew Busch said,
From what we've understood, it seems like there's been some success, so we are certainly willing to give this a try.
He added you can expect to see the new measures in place in the immediate future.
One thing springs to mind, however.
The drastic deterrent may unfairly penalize homeless people, who literally have nowhere else to urinate discreetly.
As you can see from this video, the paint was originally designed to scare off drunks in the streets of Hamburg, not leave homeless people with even fewer options.