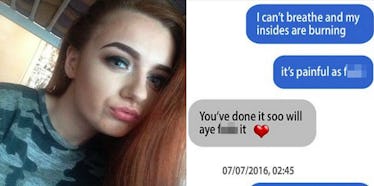 Pedophile Has Disturbing Reply To Teen's Texts For Help Before Fatal Overdose
Facebook/ Daily Mail
Britney Mazzoncini was 16 years old when she killed herself in her Glasgow home in July.
After enduring a horrific amount of bullying at school, the teenager overdosed on prescription anti-anxiety drugs in her bedroom, MailOnline reports.
However, she reached out for help moments before passing away from Barry Duffin, a pedophile she was messaging on Facebook.
In a devastating strand of messages prior to her death, 18-year-old Duffin ignored her plea for help after she had taken the pills.
She begins by texting Duffin, saying, "I can't breathe and my insides are burning. It's painful as fuck."
Instead of helping her, the careless man nonchalantly replied, "You've done it soo will aye fuck it," with a heart emoji.
She replied to his text at 2:45 am and said her "heart's gonna stop beating," and died shortly after.
Brittany's mother, Annette, found her lifeless body inside her bedroom around 3:17 am.
Following her death, police took the 16-year-old's phone for investigation. When they gave it back to Annette, she found the saddening Facebook Messenger exchange between the two.
She claimed that Duffin began "demanding" for a response after Brittany stopped answering around 3 am, but it was too late.
Annette spoke to The Daily Record about the harrowing discovery, and said,
There were messages and a Facebook call. Britney seemed to hang up on him and came back with the message, 'I can't breathe.' She told him she had taken an overdose then said her insides were burning and she was in pain. He did nothing.
Her mourning mother allegedly had no idea Brittany was conversing with Duffin until she found the messages they exchanged the night of her suicide.
She said they began talking after Brittany publicized the falling out between her and her boyfriend in a Facebook post on July 5.
This week, Duffin's reputation worsened as he was arrested and jailed for abusing three underage girls.
Apparently, he's been described as a "risk to women" after being accused of "wearing down" two girls — who were 14 and 15 years old — until they agreed to have sex with him.
He also reportedly abused a 13-year-old girl.
Mind you, he is 18 years old.
Duffin wasn't the only one who acted carelessly toward Brittany's mental health.
According to MailOnline, the teenager was severely bullied at school to the point where she left with hopes of joining the police when she turned 17 years old.
Instead, she resorted to killing herself with the prescription medicine. Because of her age, the doctor did not need to tell her parent's she was taking the pills that eventually led to her death.
Duffin could have come to her rescue, but instead, he ignored her messages for help.
Brittany's family is grieving and visits her grave every day.