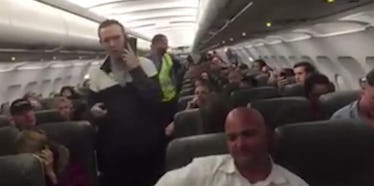 Plane Passenger Films Insane Rant That Gets Man Kicked Off Flight
YouTube
A man who appeared quite drunk was kicked off a flight after ranting about his wealth and insulting other passengers.
Footage of the rant was filmed by Sara Walter Bear, a passenger who was also on the JetBlue Airways flight from Long Beach, California to Sacramento on Friday.
The video begins with the seemingly drunk male passenger telling another passenger to "eat sh*t and die" before a crew member instructs him to sit down.
He obeys, but quickly turns his attention to another man sitting right across from him whom he apparently believes just called him a "nerd."
The belligerent passenger then responds by claiming he makes 4 million dollars a year and owns six houses despite being just 28 years old.
The two argue back and forth about who is the bigger "loser" for a short period before security can be seen escorting the alleged millionaire off the flight.
But right before exiting the plane, the passenger looks at the camera and says,
I do not sign any disclaimer for this to be released so I will be filing a lawsuit.
He then reminds everyone he has perfect vision and an IQ of 176.
According to Daily Mail, the male passenger appears to be David Brackett, vice president of real estate firm Homeland Financial Network.
Once the man identified as Brackett is off the flight, a female passenger angrily addresses the man he was arguing with, claiming this man is also drunk and very much at fault for the rude scene.
She accuses this other male passenger of "calling out [her] seat number to his little friends" and says she doesn't feel "comfortable" being on the same flight as he is.
Security is then seen removing that man from the flight as well as another man, who a security worker says "had too much to drink."
Citations: Pictured: The California real estate 'millionaire' who was thrown off a flight after bragging about 'owning six houses' and 'having an IQ of 176' while he was drunk (Daily Mail)