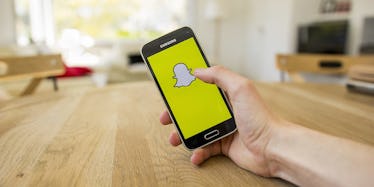 Our Parents Will Take Over Snapchat If They Find Out About This New Feature
Shutterstock
Today, Snapchat announced that Bitmoji (that thing where you turn yourself into an emoji that surfs or rides unicorns or whatever that your friend continuously sent you in group chat, to fewer and fewer laughs) can now be used within the app.
As Mashable points out, Snapchat bought Bitmoji for $100 million back in March. And now they have MERGED. So prepare yourself to see a lot of stuff like this on Snapchat.
Parents are notoriously tickled by Bitmoji — it must be all the "I NEED COFFE IN THE MORNING HAHAHA" type jokes — so you might see your parents popping up on your sacred "I'm drunk" social media space.
Thankfully, parents are also notoriously inept at "figuring out" technology, and to use Bitmoji on Snapchat, you need to go through a couple steps. For any Millennial worth their salt, it's the easiest thing in the world. You just download both apps and link them in Snapchat (you need the latest version, though).
But for certain older generations, it will seem impossible without your help.
So just feign ignorance if they ask you. That, or become OK with having your mom watching videos of you grinding with a stop sign barefoot while drunk shout-singing the national anthem in front of a cop car.